Dugout
Felled by a stone axe, and burned hollow,
a ninety-foot pine rides the water reincarnated
as a dugout vaguely redolent of its fiery formation.
Three thousand years since Bronze Age Britons
sat athwart—poled through swamps, rowed lakes.
Registered signs: bird trill, antler, planet, moon,
clouds singed by the sun. They fished the depths, cooked
on deck the thrashing silvers.
From the roots of sound and trunks of words, language
feeds images that buoy our dreams. Awakened we craft
metaphors, from the Greek metaphorá, "transfer, or carry."
Transoms, lifted from sterns, allow vessels to be sunk
for the winter in a bog as nourishing as poetry. Hidden,
then dug out, similes and metaphors also float, fresh
or fossilized—tongue of flame, or eye of a needle compass-
bound—so similar, the insensible ear does not tell them apart.
At Florida's Pithlachocco Lake, Seminole for "the place
of long boats," a folksinger and a teacher lead students
to discover canoes by the dozens. Archaeologists spoon-lift
from mud the shards carbon-dated to five thousand years.
In time, the people of six continents piloted dugout canoes
over oceans—some with outriggers, some with sails.
Like squirrels we cannot remember where the vehicles lie
though they branch and leaf and flower before our eyes.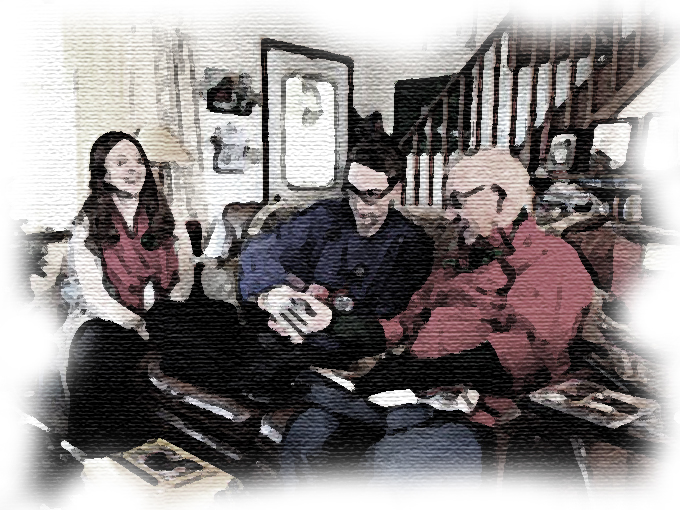 Family Photograph
A satin patina of light hovers over the sofa leather
where they sit—the grown-up daughter and son, home,
together. He, cross-legged between his sister,
her scarf ornamented by a gold gift bow as corsage,
and Dad, who smiles in a wool shirt, Christmas red,
festooned by a tangle of green curling ribbon as necktie.
The father's left hand lies snug in a brown leather glove.
The son's lips close in amused concentration, as,
from one blue sleeve of a Santa Express party sweater
to Dad's bare hand, he extends the four-fingered cardboard insert.
The easy grip and shake say humor's an art between them.
In the photo we can't see what's done: a breakfast of pancakes
with berries and syrup, cups of coffee, espresso black.
Nor can we hear the daughter's grin blossom into the next quip,
or the silver ornament from Lazarus, now Macy's—a falling
portamento followed by the stutter-chirp of a mechanical mockingbird.
The same gurgle-spurts their parents had made with forefinger
tommy-guns blazing at Nazis from perches in neighborhood tree forts.
Behind Dad, a photograph of two girls. Sad little Pearl, grandma
of the siblings on the sofa, has cut her own bangs. Younger sister
stormy-eyed Nevada is tethered to sissie's arm. They're in button shoes,
twin shapeless dresses of mattress ticking. Pockets quiet their fists
where they stand on a porch in a southern Ohio flooded by rivers
of misfortune years before the Great Depression—a photo in grayscale.
Nothing much to suggest sentinel evergreens on a hillside of snow and stone
where the living stoop to lay flowers, and the grace note of light moves on.

I Believe I'm Sinking Down
from Cross Road Blues, now known as Crossroads
—Robert Johnson
At the horizon a drowning sun,
powerless to float the graphite sea,
casts rays like grappling hooks into her chest.
Onboard, hundreds of screens flicker.
Should she watch Big Fish
or reel out her misgivings? Stage them:
wings unhinged, the fuselage and tail
thundering into an ocean too shattered to reflect?
Storms and wind shear terrify,
but she doesn't pray the airbus through
a sky star-stung, scythe-hung. Clapton
shreds the blues of Robert Johnson, an afterworld
of resurrections in a set of loaner earphones.
By its wingless tongue, her pencil articulates
the frictions as she belies a lack of faith in last acts.