Bill
I
Bill has swept back blond hair, lazy blue eyes, sucked in cheeks, a gaunt, leathery look from years of house painting. He spent decades balancing on ladders braced by collapsing gutters or rotting sideboard, but never fell far or broke a bone. Other than part-time bartending in a place called Segovia's in Monterey, California, Bill's retired now. He still drives the paint-smeared pickup truck he used in his work. Though he's working less, he's still gaunt.
Bill's from Philadelphia and grew up hearing stories about an uncle he never met, Philly fighter Eddie Cool. Eddie squandered his talent, falling down drunk in the city's gutters. He once said his father died a drunk, and he would, too. So for a lot of years Bill steered away from alcohol. He remembered meeting and getting to know the old Philly trainer Sam Solomon, and openly crying as Solomon described again and again the handsome Cool's demise at the age of thirty-five due to careless living and drinking.
Still, Bill was naturally sociable so he took a drink now and then, and then a few more. After a stint in the Navy, he roamed the country, hoisting beers along the way. In New Mexico he decided he'd like to live in Alaska and packed up his pickup truck. When he hit the California coastline he turned north. When he came to Monterey he pulled over and watched the waves breaking on the shore. This gave him a kind of peace. He decided to put Alaska on hold.
Bill walked away from a hotel room for twenty-seven dollars a night, got one for seventeen, then a few days later found an affordable, thin-walled fisherman's cottage just above Cannery Row. Rent included a chair, a cot, a black and white TV – he picked up a fridge at the dump. He found piecemeal labor jobs. He installed braces and boards on the sides of his pickup truck bed and made money hauling stuff. When someone asked him if could paint, he did that, too, and graduated from interiors to more dangerous exteriors.
At a pizza bar he met an older couple, Bruce and Jean, who had been friends – young protégés back then – of the late author John Steinbeck and marine biologist Ed Ricketts. Bruce, a painter, and Jean, a writer, liked a good time to dull some dark memories. Being with people they liked helped, so their house up on Huckleberry Hill was often wide open for guests. One day, not having seen him for a time, Bruce and Jean showed up at Bill's cottage with a bottle of Chianti.
This surprised Bruce and Jean's other friends. They said, "Bruce and Jean don't visit you – you visit them. What's going on?'' Bruce told Bill, "Do you know why we like hanging out with you? You don't treat us like old people.''
Bill attributed that to his relationship with the Philly trainer Sam Solomon. Bill hadn't treated Sam as old either, he loved him too much.
Bruce and Jean had seen a lot of life – violence in the valley's agricultural fields, Steinbeck's life threatened, and the much-loved Ricketts killed when his car stalled on the train tracks, standing by as his broken body was lifted onto a stretcher. They'd also seen artists and writers and poets fail, while they themselves had struggled to establish themselves; they did better than most though recognition was long in coming. For every local artistic success story, there were many more of failure, a few suicides sprinkled among them.
Through Bruce and Jean, Bill became a regular at Ricketts' old laboratory on Cannery Row. A kind of men's club had established itself of artists, cartoonists, judges, writers, professors, business types, all of a slightly raffish bent.
Hanging over them were the memories of Steinbeck and Ricketts, giving the place an exhilarating though sometimes haunted quality. In the good times, people swore you could get high just breathing the air, simply by stepping into the lab. The lab could also be unpleasantly aromatic. Rotting kelp and dead sea life would wash ashore on the rocks just below the concrete deck that extended out behind the lab. Still, that just added to the character of the place.
Eventually Bill left the board and batten cottage and rented a larger house in nearby Pacific Grove. It was a short walk to the shoreline, a middling one to the Row. When a friend lost his job, Bill rented him a room for almost nothing. When another separated from her husband, Bill rented her a room. And so on. Bill couldn't say no, though granted he liked receiving rent – but, he told himself, it wasn't much and included full kitchen privileges as long as people cleaned up after themselves.
The house at various times held seven or eight people, including a charming but luckless scholar in a frayed blue blazer living in the garage, made more comfortable by carpet remnants Bill gathered from painting jobs. Bill's became a social center to rival Bruce and Jean's.
One night the tenants and Bruce and Jean were sitting around Bill's half watching the Academy Awards while sipping cocktails when Bill noticed One Flew Over the Cuckoo's Nest was winning all the awards but its author wasn't on hand. Bill asked Bruce and Jean if, in the day, Steinbeck showed up when his books made into films were up for awards.
"That wouldn't have been like John,'' said Jean, and Bruce nodded.
Bill sipped his cocktail and pondered. He knew Ken Kesey lived in Springfield, Oregon. So though he realized it was a long shot, he turned down the television and called information. He not only got a number, when he dialed Kesey himself answered in his crystalline voice: "Ken here.''
Surprised, Bill said, "Bill here.''
"Bill who?''
"Bill of Monterey.''
After a pause, "Well – Bill of Monterey – what can I do for you?''
Bill explained he'd heard Kesey had had a falling out with the film's producers and guessed that's why he wasn't in Hollywood, and what did he think of what was going on so far?
"Well, I'm in the backyard shed editing a magazine article, no TV, so I don't know what's going on down there. But since you ask me how I feel about it . . . have you ever suddenly remembered you have something important in your pocket, but when you reach in all you find is a hole big enough to match the growing pit in your stomach? That's how I feel. Something important to me . . . part of me . . . is missing.''
Bill felt tears coming to his eyes.
"Like after a shock treatment?''
"Yeah, maybe so . . . .''
"Or a lobotomy?''
"You don't feel anything after a lobotomy, Bill of Monterey – that's why they do them.''
"Yeah.''
When Bill got off the phone, he confused Kesey and shock treatments and lobotomies in his head with Sam Solomon and Uncle Eddie Cool lying in a Philly gutter – and wiped the tears from his eyes. Bruce and Jean comforted him. He was becoming like a son to them.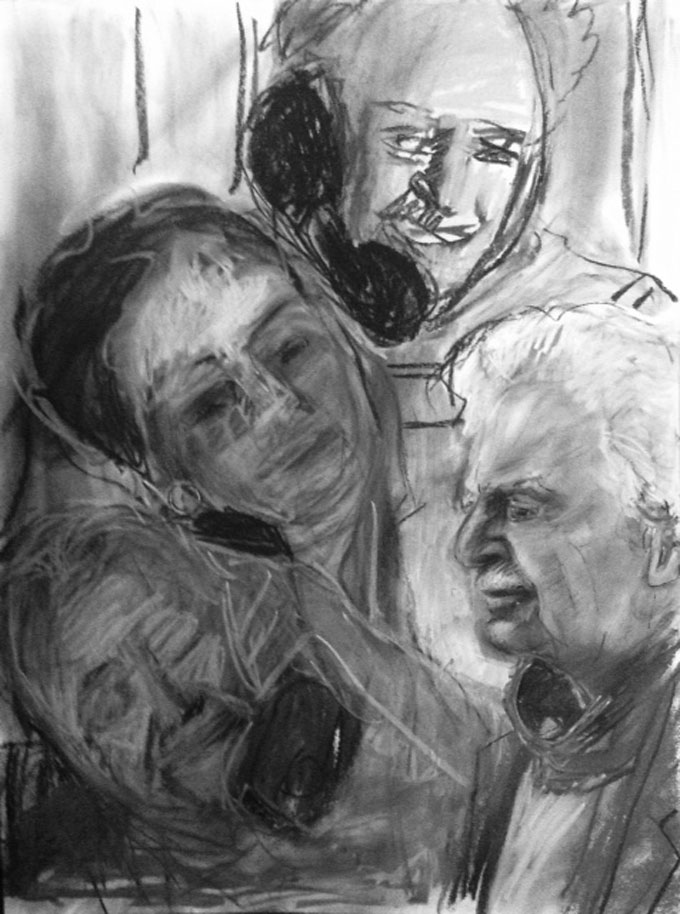 II
Bill met a woman and fell in love and they had a daughter and the tenants had to go. When the marriage ended the tenants began returning and the daughter had many adults looking after her and getting in the way in the kitchen. There were only so many burners and pots and pans.
Cannery Row was eventually and predictably appropriated by developers. Work began on a sprawling luxury hotel project then was stalled by money problems. Cyclone fences couldn't hide concrete pilings and rusting rebar. The lab guys didn't mind eyesores from the past littering vacant lots – fish hoppers and caved-in boilers had character and echoes of Steinbeck and Ricketts – but contemporary pilings and rebar were another matter.
A restaurateur had the inspiration of hiding the fences and what was behind them with murals depicting Monterey life. With the city's blessing, Bruce put out word anyone with the artistry and vigor to paint a vision of Monterey on sheets of plywood was welcome to try.
The city provided a hundred boards. Bruce coerced Bill into priming them on the lab's deck, wisely hiring an attractive masseuse to keep Bill and the other volunteers – who delivered the primed plywood boards to artists and picked up the murals when completed – on the job. When a major earthquake struck on a fall afternoon, Bill tumbled off the masseuse's table and some of the already installed murals collapsed. But they could be repaired and nobody on the Row was killed and the lab held together.
The mural project miraculously transitioned from an attempt to artistically cover up pilings and rebar into a symbol of the rebuilding spirit of mankind. Bruce was lionized. A walkway leading to the lab was named for him.
A year later Bruce and Jean's house burned down. Bruce gathered himself for a final project – designing and constructing a new house for Jean. There was no shortage of volunteers to help. When the house was completed – a minor masterpiece of stone and arching wood beams – Bruce declined quickly.
On his deathbed Bruce said to Bill, "I love you – dance in the streets all night long.'' He was prophetic. The city shut down Cannery Row traffic in his honor and people danced all night to the live music of Jake Stock and the Abalone Stompers, none longer than Bill.
Jean went on for another decade. She worried to friends that often when Bill called late at night to talk about the old times, he'd had too many cocktails. It tore at her heart. Bill wondered about this because when he visited it was usually Jean who brought out the Jack Daniels.
When someone young and smooth arrived from Los Angeles and talked an aging Jean out of important papers relating to life at the lab, Bill had to be dissuaded from traveling to Los Angeles and throttling the man. When Jean died, Bill regretted not having done it.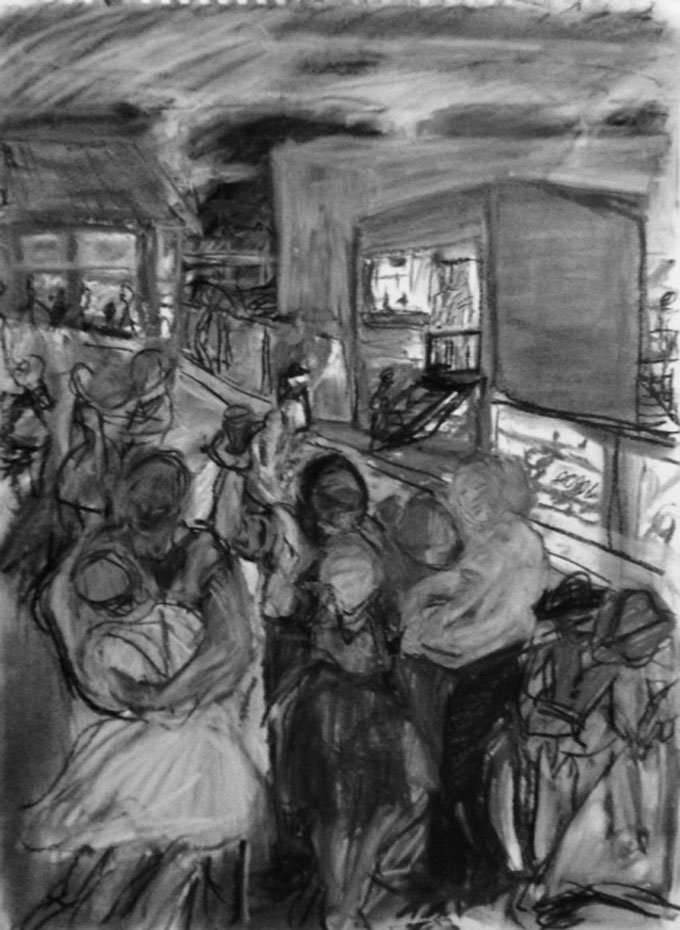 III
Two men knocked on Bill's door. They were wearing suits, loose ties and carried clipboards. They showed Bill identification. "We're from the city. We've had complaints. Your tenants are living here illegally, have been for years. They have until four this afternoon to vacate the premises.''
Bill worried most about the scholar in the frayed blue blazer in the garage. Over the next few weeks Bill found temporary shelter for most of his tenants. A few found housing on their own. A friend allowed the scholar to room with him across town. Bill's daughter was already independently in her own place, so that was not a concern.
A week later Bill was evicted from the house. He became depressed, drank a little but not a lot. Memories of his uncle, Eddie Cool, and old Sam Solomon's stories were always there to make him think hard. He would push it to the edge, but never cross a particular line he had unconsciously but firmly set in his head.
Even when Bruce and Jean had worried about him, he knew he would be okay. He would not die in some gutter like Eddie Cool. If he hadn't learned abstinence or moderation, he had learned a kind of control.
One other thing he knew – he had to leave, he could no longer afford Monterey, the city's rising cost of living. Philly was out. He cast about. He fondly remembered a dusty border town in New Mexico he had paused in decades earlier on his way to – he thought then – Alaska.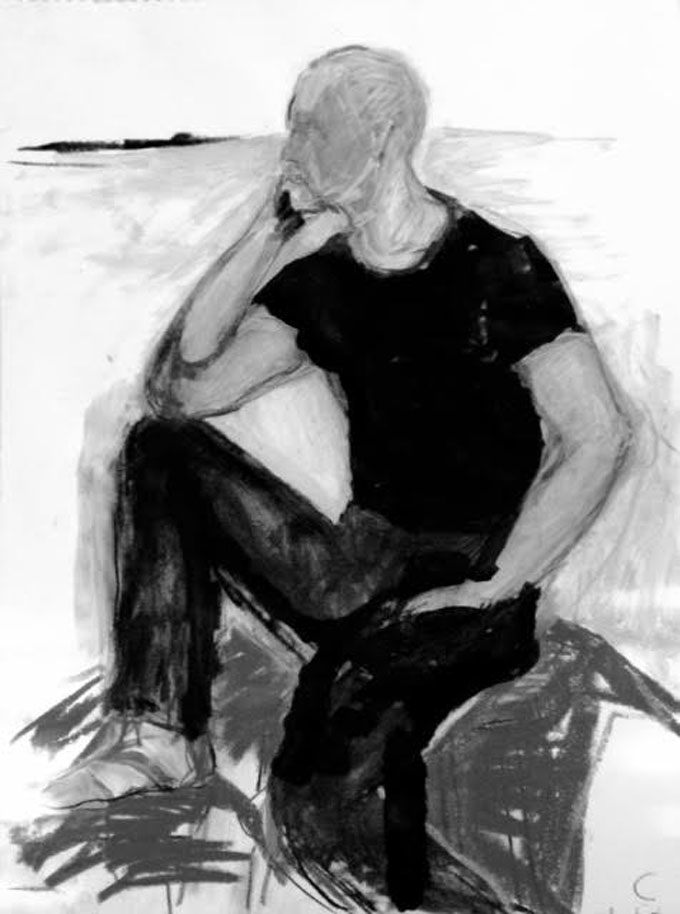 He made calls, he talked to people, he was told he could live cheaply in this town, which had changed little in the decades since. Through an agent he found for almost nothing a miner's hut with paper-thin walls overlooking the desert. Like the sound of the breaking waves, he decided, the silence would bring him a kind of peace.
Illustrations by CKline (Caroline), who is happy to report that she is creatively pursuing multiple projects in the arts.