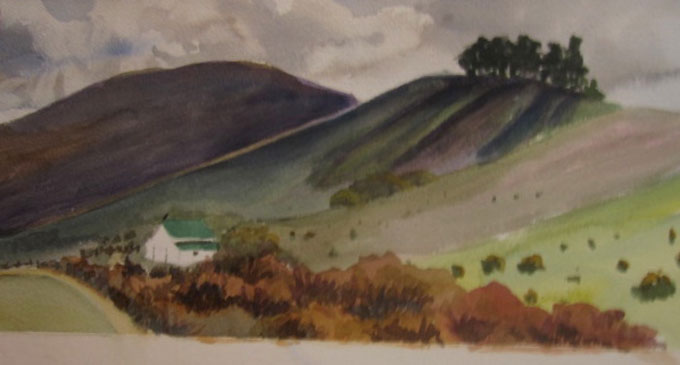 The magical landscape of John Steinbeck's beloved Monterey, California Peninsula continues to inspire fine art with broad appeal. "Loving Watercolor, Paintings by Nancy Hauk''—an exhibition opening on April 17 at the Pacific Grove Public Library—is an impressive example. "Near Harmony" (above) was painted just off Highway 1 on the Central California coast. John Steinbeck worked on the highway construction crew as a young man before becoming the state's most famous writer.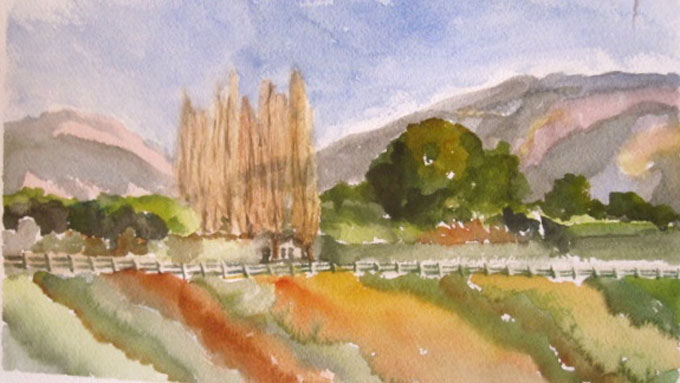 John Steinbeck's Pacific Grove
Steinbeck did much of his early writing in Pacific Grove, the quaint, colorful town south of Monterey, California, where Cannery Row starts and a slender street running past the Steinbeck family cottage bears the name of Ed Ricketts, the marine biologist and model for Jim Casy and other characters in John Steinbeck's most memorable fiction. As it happens, Nancy Hauk's home is the former abode of Ricketts and his first wife—also named Nancy—on Pacific Grove's legendary Lighthouse Avenue. Holman's Department Store, instantly recognizable to readers of John Steinbeck's Cannery Row fiction, isn't far. Hauk Fine Arts, the gallery owned by Nancy and her husband Steve, is also located nearby. Pacific Grove is a walking town, like Sag Harbor, the Long Island village that became Steinbeck's Pacific Grove East when he lived in New York later in life.
The Fine Art of Nancy Hauk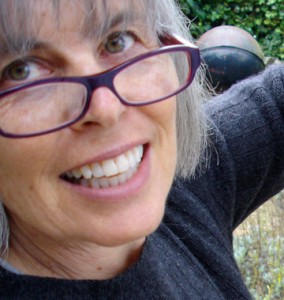 Nancy Burtch Hauk made the opposite journey, majoring in art history at Connecticut College before moving to Pacific Grove with her husband Steve and pursuing the important career of breaking down test biases for CTB–McGraw Hill, traveling the country and working with the late Ross Green, a national pioneer in the field of educational test assessment and publication. When she could find the time as a busy professional with two children, she painted scenes of Monterey, California and France, studying with Sam Colburn—who arrived on the Monterey Peninsula in the 1930s and knew and associated with many of the same artists John Steinbeck did—as well as National Academicians Gregory Kondos and Don Nice, Claire Verbiest, Gerald Brommer, Katherine Stock and Jann Pollard. Her friend Marty Clarke was her constant painting companion.

Capturing Essence, Like John Steinbeck
Most of the works in the Pacific Grove Library exhibition were painted between 2000 and 2010. They include French vignettes, scenes from Steinbeck Country, gardens of ancient adobes in Old Monterey, California, and innovative studies of Spanish missions integrating the decorative motifs that distinguish Mission San Juan Bautista and other churches built by Franciscan missionaries 200 years ago. Some of the selected paintings are incomplete, with the artist's notes and practice brushstrokes illuminating her creative process as a fine artist. "Reflecting Reeds" (above) demonstrates her Zen-like mastery of meditative line and visual economy.
"Loving Watercolor, Paintings by Nancy Hauk" was curated by Julianne Burton-Carvajal and runs through May 30 in recently restored library gallery space located at 550 Central Avenue, a block from Lighthouse Avenue in downtown Pacific Grove. (Note to Steinbeck lovers visiting Monterey, California in April or May: don't miss the experience of seeing Steinbeck Country through the eyes of a contemporary fine artist with a talent for capturing the essence of every scene—just as John Steinbeck did when writing about his favorite places from the comfort of his Pacific Grove cottage years ago.)