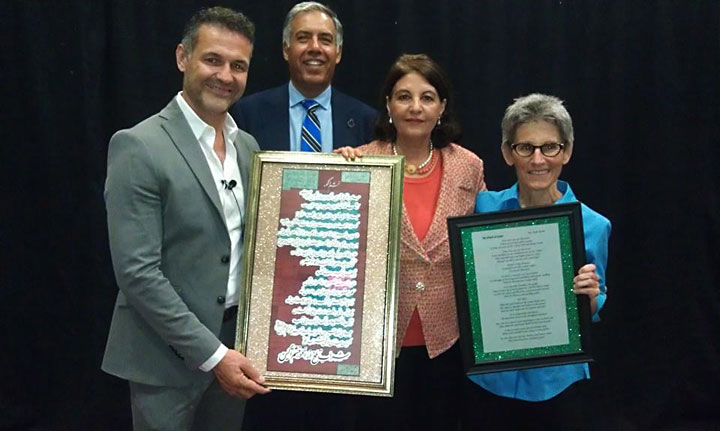 John Steinbeck's poetic protest novel The Grapes of Wrath came to renewed life in a Farsi language poem written and recited by Najia Karim for San Jose State University's September 10 event honoring the Afghan-American writer Khaled Hosseini, author of the bestselling novel The Kite Runner and recipient of the 2014 Steinbeck "In the Souls of the People" Award for artistic achievement and service to humanity. Hosseini's moving acceptance speech was heard by hundreds at the San Jose State University Student Union. Proceeds from the event benefited the Martha Heasley Cox Center for Steinbeck Studies, which confers the award.
In the photo, Hosseini (at left) stands with San Jose State University President Mohammad Qayoumi, Najia Karim, and Jan Sanchez, the San Jose high school teacher who introduced Hosseini to Steinbeck as a student. Hosseini's mother taught Najia at a school for girls in Kabul, the Afghan city where Hosseini was born. The Farsi language—the tongue of the ancient Persian empire—has a rich literature, including much poetry, and is spoken by a majority of Afghans today. Hosseini and Najia are shown holding the Farsi language original of her poem (translated as "The Wrath of Grapes"), while Jan Sanchez holds the English language version.
Like Hosseini, Najia immigrated to the United States at a young age, earning undergraduate and graduate degrees at the University of Cincinnati before moving to California. The author of fiction as well as poetry in Persian, she has been published in various Farsi language periodicals and books. Like Hosseini, she is a resident of the Bay Area, where she founded the Cultural Society of Afghan Women and hosts Gulzar Andisha ("Splendor of Thoughts"), an Iranian-community television program. She recited "The Wrath of Grapes" for the first time at a private reception honoring Hosseini held at the Center for Steinbeck Studies.
View Najia Karim as she recites the Farsi language original of her poem in this six-minute video, which includes an English translation read by Nick Taylor—novelist, teacher, and director of the Center—accompanied by photographs of the Dust Bowl and Great Depression taken by Dorothea Lange, John Steinbeck's contemporary and fellow advocate for the victims of both disasters.
Feature photo courtesy Robert Bain/San Jose State University.