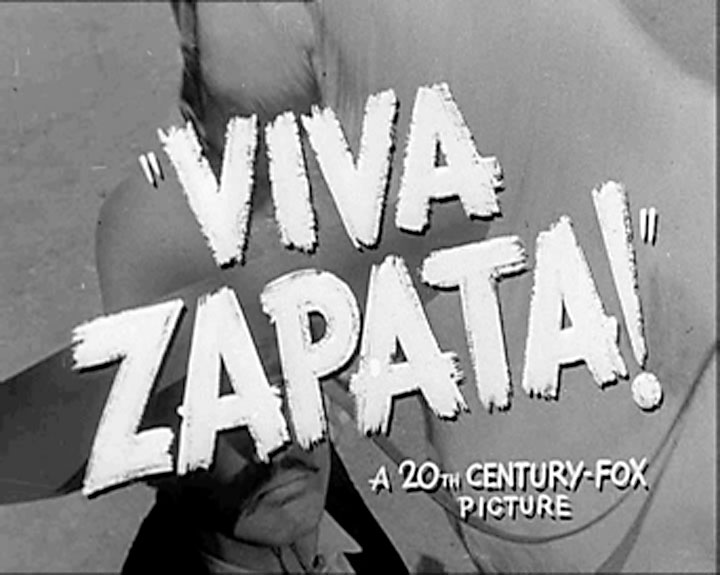 Unlike other famous authors of his generation such as Faulkner, Fitzgerald, and Hemingway, John Steinbeck experienced more success than failure in motion picture adaptations of his fiction while he was alive. Uniquely among American writers who worked in Hollywood during the first half of the 20th century, he also found creating original scripts for motion pictures a productive vehicle for his social message and artistic vision, as well as a useful outlet for personal issues when needed. The 1952 film Viva Zapata! starring Marlon Brando as the hero of the recent Mexican Revolution exemplifies these aspects of Steinbeck's career as a writer.
Working with his friend Elia Kazan—the director of On the Waterfront, also starring Marlon Brando, and the 1955 motion picture adaptation of East of Eden—Steinbeck produced a remarkable screenplay about the Mexican Revolution that explores themes central to his social-protest novels of the 1930s. Like the best of his books, his screen treatment of Emiliano Zapata, the martyred leader of the Mexican Revolution, represents a compelling vision of personal virtue, group corruption, and individual responsibility in a fast-moving narrative that seems fresh today.
Like the best of his books, his screen treatment of Emiliano Zapata, the martyred leader of the Mexican Revolution, seems fresh today.
But Viva Zapata! is also the story of a rebel with a divided conscience, conflicted and confused, whose fame threatens his integrity when he succeeds in his effort. The same could be said of John Steinbeck's life following The Grapes of Wrath. He feared wealth and celebrity, and when they came they cost him. The Grapes of Wrath was an overnight sensation, both as a Pulitzer Prize-winning book and as an Academy Award-winning motion picture. Like the stage version of Of Mice and Men, it was adapted by others with John Steinbeck's blessing. Throughout the 1940s, he wrote scripts for Hollywood motion pictures with disappointing results. Viva Zapata! he kept for himself, instigating and overseeing the project and researching the Mexican Revolution with the care of a historian before writing the script.
What made Viva Zapata! so good when other motion pictures produced from stories by John Steinbeck—such as Alfred Hitchcock's 1944 disaster, Lifeboat—were so bad? Control, commitment, and collaboration were key to the quality of the motion picture Steinbeck wrote, financed, and produced with his trusted colleague Kazan.
Steinbeck's Motion Pictures: From Adaptation to Original
In his introduction to the 1993 Penguin edition of Viva Zapata!—which includes John Steinbeck's thoughtful essay on the Mexican Revolution—the scholar Robert Morsberger repeated his judgment, first expressed 20 years earlier, that "[a]mong modern American authors, John Steinbeck has had the greatest success in the movies, both with adaptations of his novels to the screen and as a screenwriter himself." Adaptations of Of Mice and Men (directed by Lewis Milestone), The Grapes of Wrath (directed by John Ford), and East of Eden (directed, as noted, by Kazan) were major motion pictures appealing to a broad audience. They made John Steinbeck a name recognizable to millions who never read his books.
Less well known is the fact that Steinbeck started his own production company in the period between the first and last of these motion picture hits. Three of his best screenplays–The Pearl (also published as a short novel), The Forgotten Village (1941), and Viva Zapata!–are set in Mexico, a country he loved to visit, with a history that fascinated him, particularly the Mexican Revolution that gave him the idea for Viva Zapata! His script about the conflicted rebel leader Emiliano Zapata is considered by some the best work that he produced in any medium between Cannery Row (1945) and East of Eden (1952), novels based on the author's life growing up in California.
His script about the conflicted rebel leader is considered by some the best work that he produced in any medium between Cannery Row  and East of Eden.
Writing Viva Zapata! reinvigorated John Steinbeck's interest in collective action and principled martyrdom, the dignity of the poor, and the eternal conflict between the individual and the group—the subjects of his greatest novels of the 1930s and themes addressed in Sea of Cortez, his collaborative account with his friend Ed Ricketts of their 1940 sailing expedition to Mexico. Writing Viva Zapata! also provided an outlet for self-reflection. Like his revolutionary hero, John Steinbeck was a man in crisis and conflict, with others and with himself.
John Steinbeck and Zapata: A Personal Revolution?
Between The Grapes of Wrath and East of Eden, much of John Steinbeck's energy was devoted to journalism, motion pictures, and plays. While his novels of this period—including, despite its popularity, Cannery Row—irritated critics in New York, he was embraced by Hollywood, where he had friends and, occasionally, lovers. His motion picture projects included some of the biggest names in the industry: John Ford, Hal Roach, Alfred Hitchcock, Elia Kazan, Darryl F. Zanuck, Henry Fonda, Spencer Tracy, Burgess Meredith, James Dean, and Brando. All told, motion pictures based on his writing received 25 Academy Award nominations and produced several winners. Ironically, Steinbeck received an Oscar nomination for best screenwriting for Lifeboat, a motion picture he tried to disown. He was nominated for best original story for another wartime film, A Medal for Benny (1945), and later for writing the story and screenplay of Viva Zapata!
All told, motion pictures based on his writing received 25 Academy Award nominations and produced several winners.
As biographers have noted without elaborating at sufficient length, Steinbeck created his own film production company in the 1940s in partnership with another friend, the colorful war photographer Robert Capa. Like Kazan, Capa was a willing collaborator, and his state-sanctioned trip to the Soviet Union with Steinbeck in 1948 resulted in A Russian Journal, a word-and-picture book. Steinbeck was attracted to common people living far from cities, and part of the book is devoted to daily life in a Ukrainian farming village. The Forgotten Village and Viva Zapata! grew from the same soil: rural folk in damaging conflict with urban culture and corruption. The films also reflect Steinbeck's interest in documentary motion pictures, particularly the social-protest documentaries—notably The Plow That Broke the Fields (1936)—of Pare Lorentz, another friend and would-be collaborator from John Steinbeck's most productive period.
Were Motion Pictures a Way to Escape Steinbeck's Critics?
Although John Steinbeck won a Critics Circle Award for the stage adaptation of Of Mice and Men in 1938, his reputation as a dramatist and novelist plummeted following World War II. The stage version of his short novel The Moon is Down (1942), although popular with wartime audiences, was disliked by New York critics. Burning Bright, his astringent experiment in Expressionist drama, bombed when it was produced in 1951. Pipe Dream, the 1955 Broadway musical by Rodgers and Hammerstein based on his novel Sweet Thursday, had a respectable run but lost money and was quickly forgotten.
As Warren French notes in his book John Steinbeck (1975), the aging author was increasingly compared by influential critics—unfavorably—with the young social-protest writer of The Grapes of Wrath and with stage and motion-picture "has-beens" such as Dalton Trumbo—the blacklisted scriptwriter who, like John Steinbeck, went on writing anyway and continued to make money in exile from Hollywood. But as Jackson J. Benson notes in his 1983 biography, The True Adventures of John Steinbeck, Writer, Steinbeck distrusted celebrity and disdained critics, considering his primary responsibility to communicate truthfully through his art to common people, not book reviewers.
Steinbeck distrusted celebrity and disdained critics, considering his primary responsibility to communicate truthfully through his art to common people, not book reviewers.
A 1951 article by H. J. Oliver in The Australian Quarterly describes this dichotomy in the context of Steinbeck's declining critical reputation at the time:
By now John Steinbeck has written over a dozen books in addition to the two or three said to have been rejected before Cup of Gold was accepted in 1929. Yet there is still no general agreement about his literary status: by some he is mentioned in the same breath as Hemingway, Faulkner and Wolfe, as a leading contemporary American novelist (and even dramatist: his stage version of his own novel Of Mice and Men won the Award of the New York Drama Critics Circle for the best American play of 1937-8); but by others he is regarded as merely a second-rate writer of realistic stories which, like most so-called "hardboiled" fiction, are really too sentimental to deserve serious consideration.
Steinbeck's 1948 novel The Wayward Bus and A Russian Journal, published the following year, were critical failures. Warren French suggests that both efforts are evidence of an author who was out of touch with post-war culture–a John Steinbeck who "no longer had his finger firmly fixed on the frenzied pulse of the paranoid postwar world." Were these the warning signs of a distracted, disengaged novelist with personal problems? The answer seems to be yes.  But Steinbeck was still writing, and he was quietly moving in a new direction, away from New York. Motion pictures offered an outlet for his vision and a platform for his opinions without exposing him to the ire of critics back east. As a result, the low point of John Steinbeck's career as a novelist coincided with the high-water mark of his involvement in motion pictures—Viva Zapata!.
Viva Zapata!—Evolution, Embodiment, and Ending
Throughout the 1940s, Steinbeck dug deeply into research on Zapata's role in the Mexican Revolution, producing a substantial screenplay that one person on the project compared to a doctoral dissertation. After winnowing the script to filmable form, Steinbeck could take pride in his only full-length, original screenplay produced with dialogue—a minor motion-picture masterpiece.
Finally released as a motion picture in 1952, Viva Zapata! was John Steinbeck's last original piece of writing for the movies, the culmination of his desire to translate his artistic vision to the screen—for once—in his own terms. The Zapata story was legend in the guise of history, a formula familiar to readers and a return to the themes that made Steinbeck's early fiction famous–the Arthurian anti-romance of Tortilla Flat, the labor violence of In Dubious Battle, the social drama of Of Mice and Men, and the triumphant populism of The Grapes of Wrath.
Viva Zapata! stands out as a motion picture not only because it is "his finest work in the genre," as Robert Morsberger notes, but because "the script cannot be ignored in tracing the development of Steinbeck's philosophy of man." Morseberger is right in suggesting that the screenplay for Viva Zapata! is a milestone in John Steinbeck's career because it represents the author's "final statement about the nature of leadership, land reform, and revolution."  When Steinbeck's Zapata says, "I don't want to be the conscience of the world. I don't want to be the conscience of anybody," readers are reminded that the insecure author of The Grapes of Wrath never wanted to be the poster child for any cause.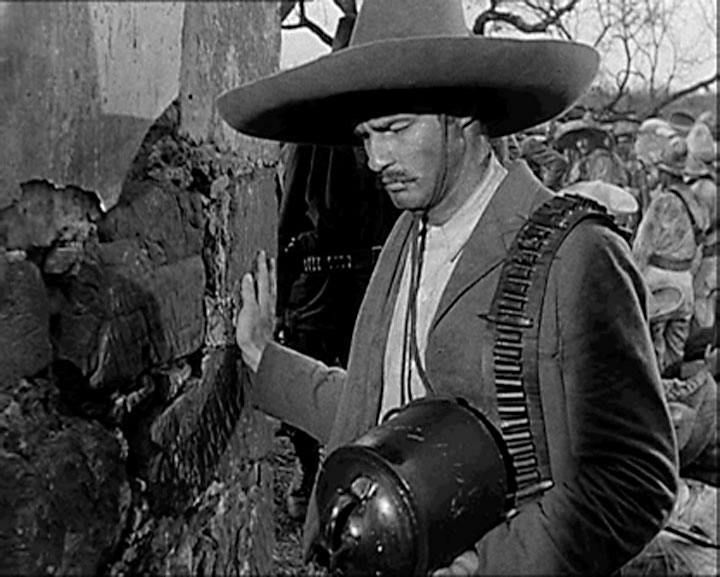 The conflict between living as an individual and following the dictates of one's conscience is powerfully articulated in Steinbeck's Mexican Revolutionary hero. Can a person be fully himself, true to his individuality and selfless at the same time? The crisis created by this dilemma ends in the hero's martyrdom in Viva Zapata!, just as it had for the young strike organizer in In Dubious Battle. A similar note is also detectable in the execution of Lennie in Of Mice and Men and Casy's murder in The Grapes of Wrath. Thus Viva Zapata! represents continuum and consistency, as well as change, in John Steinbeck's protean career as a writer.
Steinbeck's motion picture portrays the internal conflict at the center of his most memorable fictional protagonists through visual techniques that highlight the commentary implicit in the dialogue he wrote for the film. In some scenes, Kazan presents action taking place simultaneously on two planes, in the foreground and in the background of the shot, drawing the viewer's eye to the distant movement of armed men on horseback while focusing on figures engaged in intimate conversation at a table. Immediacy is set against scope, individual against group. Brando often enters the frame only to pause in place, considering two courses of action, his strong, static profile surrounded by movement and violence. Zapata's urge to run away from the action, conflict, and fame resembles—embodies?—Steinbeck's impulse to escape his critics.
Seen this way, Viva Zapata! is a form of autobiography, less obvious than East of Eden but—because motion pictures show what books only suggest—more powerful for some viewers. Although John Steinbeck continued to write fiction and nonfiction in the decades following Viva Zapata!, the film represents his best effort at film writing, an important departure in a varied career developed as much by Hollywood and motion pictures as by Salinas, Monterey, and literary New York.