Songs of a Hungry Heart from the Country of Not-knowing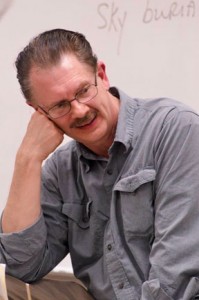 If you ask me what friendship is, I'll look to Tom Kozlowski. I've known Tom since 1966. One characteristic we share is what Bruce Springsteen refers to as a "hungry heart," which, to me, is a mind that asks fundamental questions and revises the answer based on ever-evolving experience. Take "Instructions for a Sky Burial," a song about journeying that we wrote as a result of reading about a practice the Tibetans use to send the souls of their dead to some Next Place. The song starts off: "Take a cup of loss / Add a body breaker / Flashing shiny knives / under Tibetan skies." Tom and I were born in Dayton, Ohio in 1954. Both of us loved books and music at an early age, and our friendship became collaboration. In the songs we write together, we share a territory whose frontiers are states of ecstasy and imagination. (I call it The Country of Not-knowing.) Performed by Tom in his signature style, this song is from an unfinished CD called In the Pocket. I hope you enjoy it.
Photo of Tom Kozlowski by Deni Naffziger.
Copyright © 2014 by Tom Kozlowski and Roy Bentley. All rights reserved.