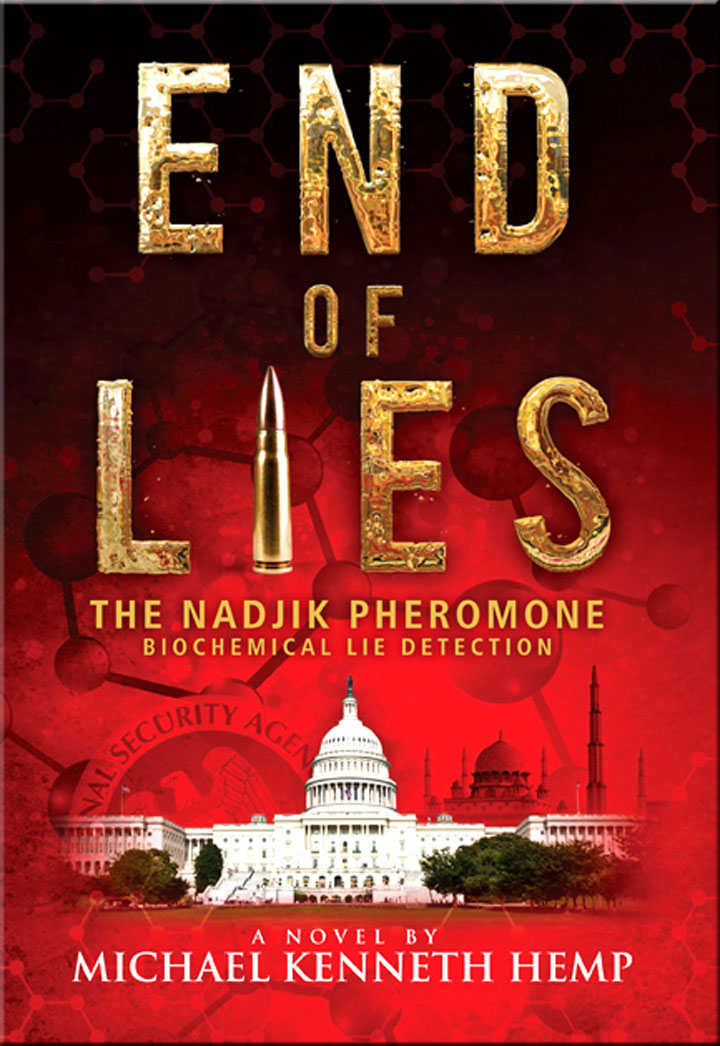 Like Ed Ricketts and John Steinbeck, the subject of his history of Cannery Row, Monterey Peninsula resident Michael Kenneth Hemp, who writes fiction like Robert Ludlum, loves science. In his fast-paced political thriller End of Lies, written as a screenplay in 1998 and published as a novel in 2008, Hemp mines a fascinating field of organic chemistry to create a convincing vision of a future in which no one—not even politicians—can lie with impunity.
The field of organic chemistry in question is pheromones (Hemp's subtitle explains: The Nadjik Pheromone: Biochemical Lie Detection). Like Robert Ludlum's Jason Bourne, Hemp's hero Michael Wolfson—a war correspondent scarred by what he witnessed in Bosnia—pursues and is pursued by bad guys in high places who kill and maim to keep international affairs off-balance for the benefit of their corporate and government masters. Unlike the fiction of Robert Ludlum, however, End of Lies gets technical in the textbook sense, requiring readers to comprehend a fascinating fact of organic chemistry: human breath produces molecules similar to pheromones that attract sexual partners and—by extension—provide a possible way to detect less likable behavior, such as lying.
John Steinbeck, Ed Ricketts, and the Monterey Peninsula—including the house in Carmel-by-the Sea where that curious pair first met—inspired the plot and provide much of the setting for End of Lies, whose author knows enough organic chemistry to convince this grateful reader, who doesn't. Terrorism in Ukraine, Iraq, and elsewhere today makes Hemp's prevention-theory for armed aggression by testing the bad guys' smell terrifyingly current. Catching culprits before they strike? That's a challenge for another novel. This grateful reader—who inhaled everything by Robert Ludlum and enjoyed End of Lies—hopes Michael Hemp is busy writing it.