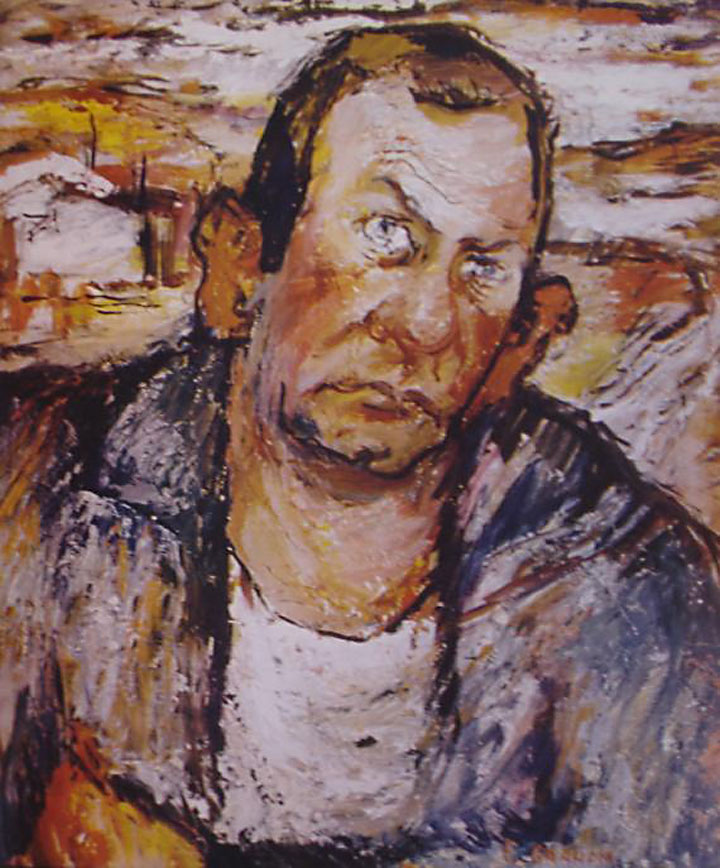 In the late 1950s I rented a house owned by Barbara Stevenson and Ellwood Graham, artists who knew John Steinbeck when he was writing his 1935 hit Tortilla Flat, at the end of Lobos Street on Huckleberry Hill in Monterey, California. By then Graham and Stevenson—who later adopted the name Judith Deim—had decided to go their separate ways, Ellwood to San Francisco and Seattle, Barbara to live with her four young children in a cave in Spain.
What worldly goods the couple possessed, including a number of Barbara's paintings that I found leaning against the walls of the three rooms in their small studio-home, were being left behind for the time being. As I unpacked and stored my clothing in the bedroom, I made a surprising discovery behind a pair of sliding closet doors: the now-missing and much-speculated-about portrait of John Steinbeck painted by Ellwood Graham some years earlier.
Barbara was still in the process of vacating the house when I began my move, and I mentioned that I didn't particularly like Ellwood's painting (shown above) because I thought Ellwood had made John look like a punch-drunk boxer. Neither agreeing nor disagreeing with my reaction to the work, Barbara told me how it came to be painted.
Barbara recalled that John did much of his early writing in the garage of the Steinbeck family cottage, located down the Hill on 11th Street in Pacific Grove. Like everyone living on the Hill, Barbara and Ellwood were aware that John and his wife Carol had made an unusual arrangement: each morning Carol locked John in the back-garden garage until late afternoon. The garage had a window or two, so there was a way out in case of  emergency, but as Barbara explained, John was easily distracted and felt he needed the kind of discipline forced on him by daily isolation when he wrote.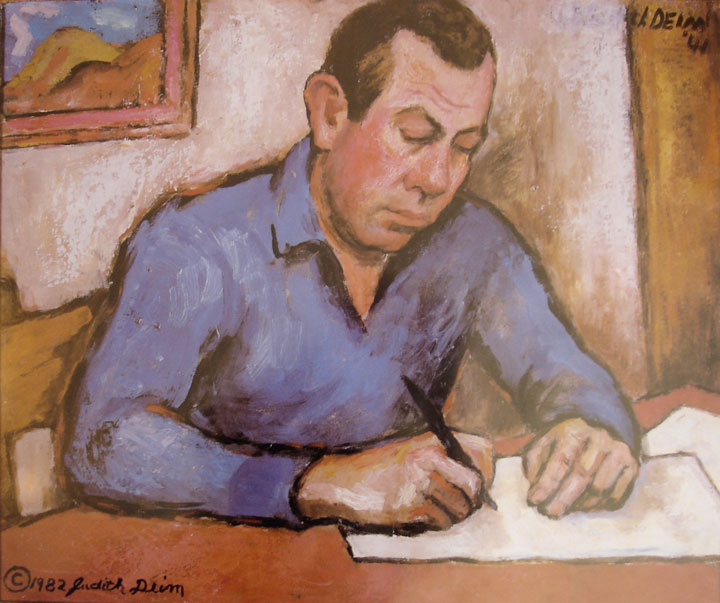 As Ellwood and Barbara sat with John in their kitchen one evening, enjoying a jug of red wine at a massive hand-hewn redwood table with matching picnic table benches, John complained that he was struggling with a story he was trying to write about some of the lively characters who inhabited nearby Cannery Row. Refilling their glasses, Ellwood stated that he thought the material seemed limitless and suggested that John ought to be writing a novel, not a short story. John replied that he couldn't imagine looking down at a blank page in another new ledger book knowing "I'd still be working on the same damn thing two years from now."
Ellwood made a proposal: rather than sitting alone in his garage each day, John should move his writing ledgers and his sharpened pencils into their kitchen, where he could write and Ellwood and Barbara could each paint his portrait. Without hesitation, John agreed. Perhaps with the help of their good friend Bruce Ariss, the artist-author who lived next door, Ellwood hurriedly built a portable box-like platform approximately 14 inches high, large enough to accommodate John's table and chair. It was there that John Steinbeck wrote portions of Tortilla Flat, his first commercially successful book, while Barbara and Ellwood painted their soon-to-be-famous friend from remarkably different points of view.
Today Barbara's well-known painting, showing Steinbeck seated at his desk writing (above), can be viewed at the Martha Heasley Cox Center for Steinbeck Studies at San Jose State University. What happened to Ellwood's portrait of the writer remains a mystery.
(By the way, the similar sound of our names meant that John Steinbeck and I were frequently confused for one another in the minds of some people in Monterey, California. There were occasions when I'd receive checks made out to "John Steinbeck." I always endorsed them, and I never had trouble cashing one. I mentioned this to John when I saw him in Pacific Grove while he was visiting his sister at some point in the 1960s—the Vietnam War was on, but I don't remember the exact year—and he said he'd do the same if he ever got a check made out to "John Smithback." Even-Steven.)