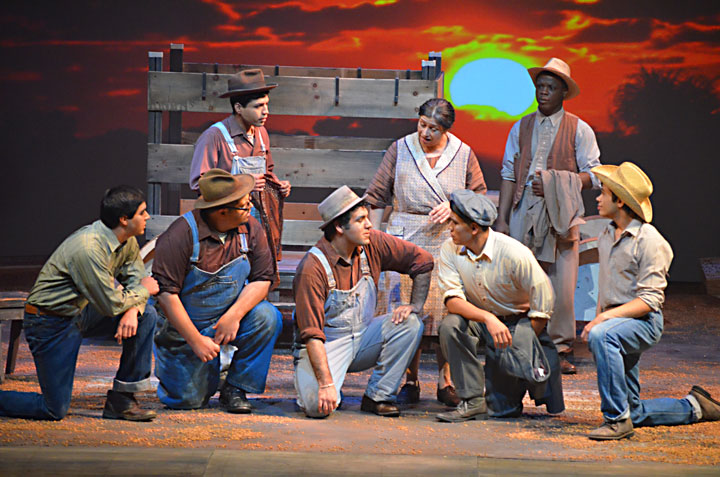 San Jose State University continued its non-stop 75th anniversary party for The Grapes of Wrath in April with a revival of Frank Galati's dramatization of John Steinbeck's novel, praised by Chicago's legendary writer Studs Terkel and premiered by Chicago's award-winning Steppenwolf Theatre 25 years ago. Studs Terkel may be dead, but the progressive prophet's ghost—like that of Tom Joad—haunts the heart of America in the age of Occupy Wall Street, Wal-Mart wages, and workers "tractored out [Studs Terkel's words] by the cats." In this context the San Jose State University production made a timeless work seem particularly timely.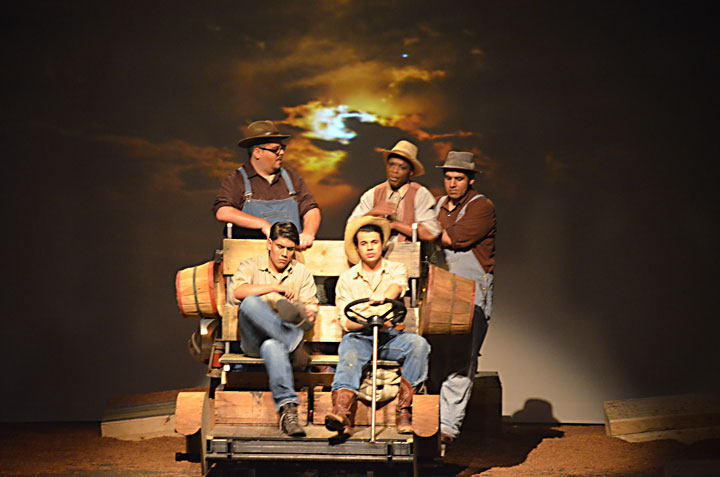 We were in the audience for the April 16 performance at the San Jose State University theater and saw for ourselves why Galati's play caught the attention of critics and won awards when it was first produced in Chicago, London, and New York. Despite the work's ambitious scale, casting requirements, and technical demands, San Jose State University's Department of Television, Radio, Film & Theatre was prepared for the task; the April run reprised a production by San Jose State University students and staff in the 1990s. Undaunted, director Laura Long and director of production Barnaby Dallas capitalized on the challenge of restaging Steinbeck's 20th century story using 21st century actors from a distinctively diverse community.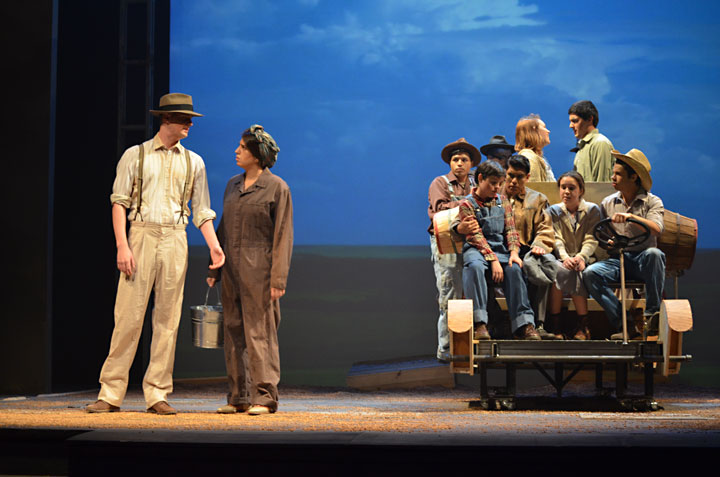 Studs Terkel would have been pleased with the result of their imaginative rethinking. Long's casting was unapologetically contemporary—multiracial, multigenerational, and a meaningful reminder that Steinbeck's "Okies" are more than convenient stereotypes or skin-deep symbols of a bygone era. The production shots shown here courtesy of the San Jose State University theater department tell a story worth a thousand words—although Studs Terkel used fewer than 65 when we wrote this about the enduring relevance of The Grapes of Wrath during the period of Galati's Steppewolf Theatre premiere, a time of deepening income inequality:
It is 1988. We see the face on the six o'clock news. It could be a Walker Evans or Dorothea Lange shot, but that's fifty years off. It was a face of despair, of an Iowa farmer, fourth generation, facing foreclosure. I've seen this face before. It is the face of Pa, Muley Graves, and all their lost neighbors, tractored out by the cats.