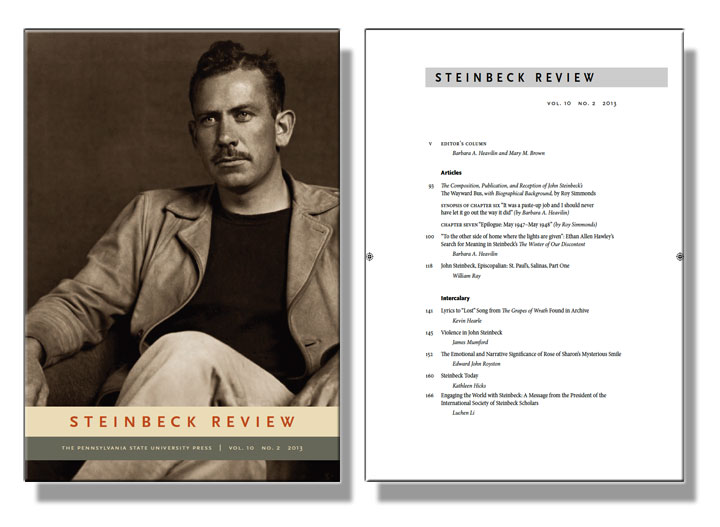 As scholarly journals become too expensive for non-commercial publishers and too costly for non-institutional subscribers, Steinbeck Review survives, a fortunate exception to the unfortunate fact that many academic journals devoted to literary criticism are no longer economically sustainable. The latest issue, published in December, features literary criticism, history, and news of interest to individual Steinbeck readers. Best of all, an individual subscription remains more affordable than scholarly journals priced for institutional libraries.
As Scholarly Journals Inflate, Literary Criticism Suffers
Like other literary journals coping with changing market conditions, Steinbeck Review has altered its name, look, and frequency since its founding in 1988 at San Jose State University. Started as one of several literary journals devoted to Steinbeck in the heyday of general scholarly journals and books, it first appeared in newsletter format as Steinbeck Studies, a publication of San Jose State University's Martha Heasley Cox Center for Steinbeck Studies.
By 2004 it had become the most respected academic journal in its field of focus, changing its name to Steinbeck Review and its format to book size and length. The first edition published under the literary journal's new name and management—outsourced to Scarecrow Press, a respected publisher of scholarly journals and books—contained 170 pages and a call for papers to be read at an international Steinbeck conference in Japan. Literary criticism and history about Steinbeck had become a global growth industry, and Japan was a world leader.
Today international conference costs are beyond reach for some institutions and most individuals, and literary journals specializing in an author not named Shakespeare have become a dying breed. Costs of production have hit scholarly publications in non-scientific fields particularly hard almost everywhere, and new books of literary criticism devoted to Steinbeck are now scarcer than crows in Kyoto. The current issue of Steinbeck Review lists only three books of Steinbeck literary criticism published in the last 12 months. We wrote about two of them at SteinbeckNow.com. The third, A Political Companion to John Steinbeck, isn't literary criticism.
Literary Criticism, Literary Journals, and Steinbeck Lovers
Fortunately for Steinbeck lovers, Steinbeck Review survives by maintaining its ties to its home at San Jose State and its appeal to the international Steinbeck community. Its latest issue compares favorably with similar literary journals in length and scope but, as Steinbeck wished for his own books during his lifetime, remains both readable and affordable for regular fans. The scholarly journal's professional editorial team—Barbara Heavilin, Mary Brown, and Paul Douglass—respond personally to questions about submitting articles. Under the expert management of Pennsylvania State University Press, the online submission process is easy to navigate and efficient to operate.
Despite the continuing decline in printed literary criticism about Steinbeck, Steinbeck Review shows every sign of long-term survival. Articles cover a range of topics, from formal literary criticism to personal essays and thoughtful book reviews. Contributors include passionate amateurs like the late Roy Simmonds, as well as academic superstars like Susan Shillinglaw, a living legend and the author of the best book of Steinbeck literary criticism published in 2013. A year's subscription costs only $35—a fraction of the price of academic books—and includes membership in the John Steinbeck Society of America. Join and subscribe. It's a two-for-one deal, and Steinbeck—who disliked cost inflation in books written for common readers  and disparaged literary criticism produced by the few for the few—would certainly approve.