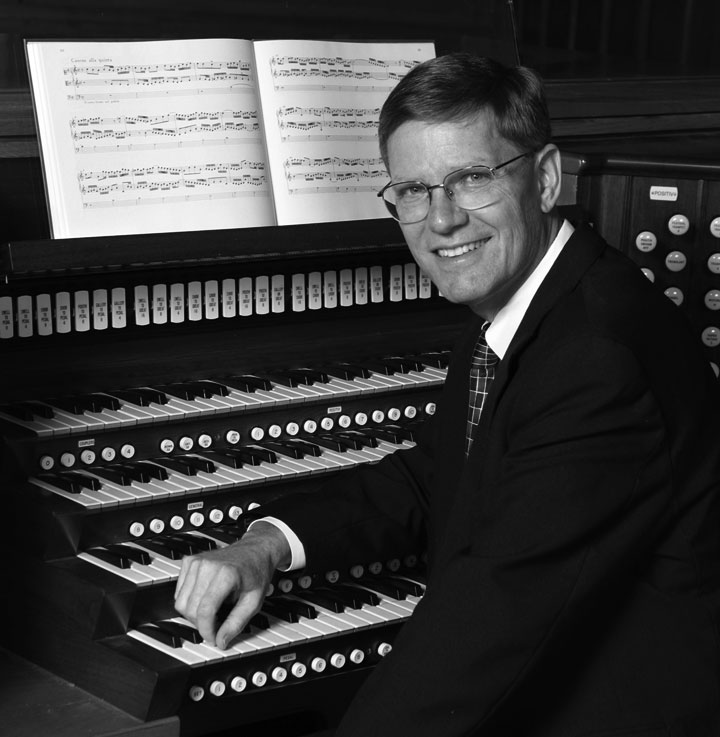 Santa Clara University, located in the heart of California Steinbeck Country, kick starts the 75th birthday of The Grapes of Wrath on February 16 with the premiere of Steinbeck Suite, a dramatic piece of pipe organ music by the American composer Franklin D. Ashdown. Like James Welch, the pipe organ virtuoso (shown here) who will perform the premiere, Frank is a sensitive Steinbeck lover as well as a leading light in the world of organ music.
Mission Santa Clara: Perfect for Artful Organ Music
The February 16 concert will start at 2:00 p.m. in Mission Santa Clara on the Santa Clara University campus near downtown San Jose. Mission Santa Clara is one of 21 ecclesiastical outposts established by early Spanish missionaries between San Diego and Sonoma and noted by Steinbeck in his travels throughout his native state. Like Monterey's historic Carmel Mission, a place Steinbeck knew well, Mission Santa Clara is famous for its architecture, art, and acoustics. The February 16 Mission Santa Clara concert is part of Santa Clara University's 2014 Festival of American Music, the kind of academic activity that appealed to the author.
Steinbeck and Pipe Organs: Music for Life and for Death
Steinbeck heard organ music growing up in Salinas, a town 60 miles south of Santa Clara, where he studied piano, sang in the church choir, and became a lifelong fan of opera, jazz, and the organ music of Bach. His first novel, Cup of Gold, ends with the sound of an organ chord reverberating in the mind of its dying protagonist, the pirate Henry Morgan. Organ music was played at John and Elaine Steinbeck's 1950 wedding and at the writer's funeral in 1968. With Steinbeck's love of organ music, musicians, and theatrical effect in mind,  Steinbeck Suite was commissioned by the former organist of St. Paul's Episcopal Church, the Salinas church depicted operatically in East of Eden, The Winter of Our Discontent, and Steinbeck's "Letters to Alicia."
Familiar Organ Music Inspired by Nights in Monterey
Frank Ashdown will be present for the February 16 world premiere of his new work by Santa Clara University Organist Jim Welch, California's most celebrated concert organist and an alumnus of Stanford, the school Steinbeck attended sporadically before devoting himself to his writing. The February 16 program played on Mission Santa Clara's classic pipe organ will also feature organ music by Richard Purvis, the subject of a recent biography by Jim Welch and the organist at San Francisco's Grace Cathedral following World War II. Purvis's "Nights in Monterey," a favorite piece of organ music for lovers of colorful sound, was inspired by camping trips made by the composer to the Monterey Peninsula at the time Steinbeck was writing East of Eden. It is possible that Steinbeck heard Purvis play the pipe organ at Grace.
Organ Music Written to be Heard, Like Steinbeck's Fiction
A widely published composer of choral and organ music, Frank Ashdown has had his works performed at Grace, Salt Lake City's Mormon Tabernacle, the Cathedral of Notre Dame, St. Paul's Cathedral in London, and churches and concert halls throughout the world. A perceptive student of Steinbeck's fiction, he writes as Steinbeck did: to be heard and appreciated by average people, not specialists. Jim Welch, who recommended Frank for the commission celebrating Steinbeck's anniversary, comments: "From the opening movement, an homage to the humanity of The Grapes of Wrath, to the fiery closing toccata depicting the conflagration of Danny's house in Tortilla Flat, Frank's Steinbeck-inspired organ music will keep listeners on the edge of their seats. Mission Santa Clara's reverberant sound, reverent atmosphere, and visual splendor are perfect for Frank's Steinbeckian sense of acoustical theater and spiritual transcendence."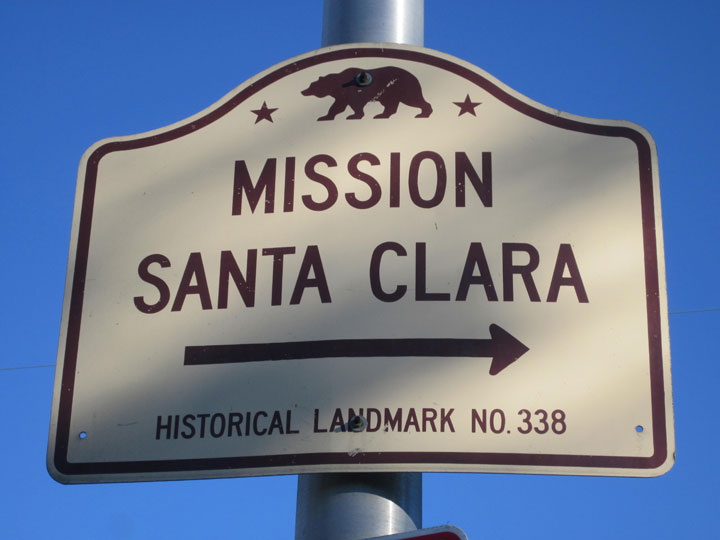 The February 16 concert of organ music at Mission Santa Clara is open to the public. For tickets, see the Santa Clara University performing arts series website. Santa Clara University is located at 500 El Camino Real in Santa Clara, California, 10 minutes from San Jose International Airport and five minutes from Interstate 880. Take the Alameda Exit north and follow the curve in the road right as The Alameda becomes El Camino Real. The Santa Clara University campus entrance is on the left. Free parking is available in the new Santa Clara University garage near the campus entrance, and Mission Santa Clara is a two-minute walk from the garage. February 16 is a Sunday, but Californians dress casually. If this is your first visit, come early and drink in the beauty. Like The Grapes of Wrath, Mission Santa Clara is breathtaking. So are the organ music of Frank Ashdown and the organ virtuosity of Jim Welch, artists who love Steinbeck the way Steinbeck loved Bach.