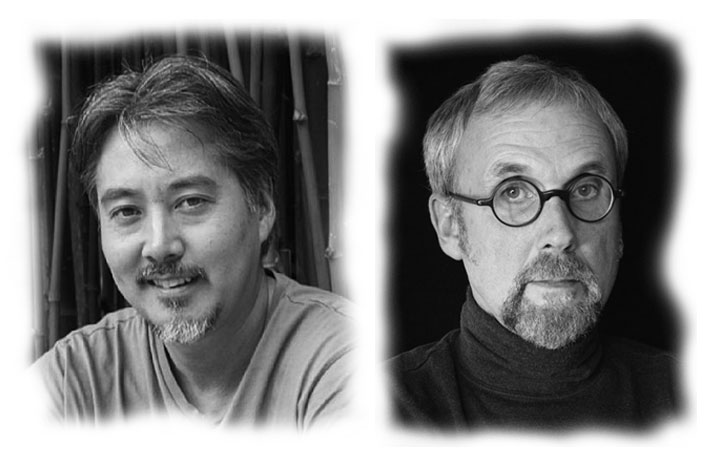 The rugged coast and majestic mountains of Monterey County, California, inspired awe-struck visual arts professionals and amateurs long before John Steinbeck appeared on the scene. So it seems natural that Steinbeck, born and raised in Monterey County, was attracted to the visual arts and met well-known artists of the period, such as E. Charlton Fortune and Armin Hansen, California Impressionist painters who lived and created much of their most popular work in Monterey County.
Writing in and about Monterey County in the 1930s and 40s, Steinbeck befriended a host of younger artists who were, like the author, perfecting their craft in the company of colleagues, friends, and lovers. But the ripening John Steinbeck-Monterey County-visual arts connection didn't end with the author's death. Forty-five years later it continues in the work of contemporary Monterey County painters including Warren Chang (above left) and David Ligare (above right), successful artists who differ in technique but share a source of inspiration in the literary landscapes of John Steinbeck.
John Steinbeck and the Visual Arts in Monterey County
Steve Hauk—the Monterey County writer and art dealer who co-curated This Side of Eden – Images of Steinbeck's California, the inaugural exhibition of the National Steinbeck Center in Salinas—is an expert on John Steinbeck and the visual arts, past and present, in Monterey County. He was interviewed for films on E. Charlton Fortune and on John Steinbeck and his Monterey County artist circle for the 100-Story Project, an archival narrative of Monterey County history and culture. Among the best known members of Steinbeck's circle were several artists—notably James Fitzgerald, Ellwood Graham, Judith Deim, and Bruce Ariss—who created notable portraits of the author, a shy person who enjoyed being painted but didn't like to be photographed.
John Steinbeck also befriended artists beyond Monterey County. Among his closest confidantes was Bo Beskow, the Swedish painter who completed portraits of the author at Steinbeck's request in the 1940s, 50s, and 60s. The American painter Thomas Hart Benton, whose perspective on his native Midwest mirrored Steinbeck's passion for Monterey County, never met the writer but shared his populist politics and anti-elitist aesthetics. Benton's illustrations for a special edition of The Grapes of Wrath captured the book's spirit so well that the writer and the artist became synonyms for sentimentality among critics of their work. 
Today the Canadian painter Ron Clavier continues the John Steinbeck-visual arts tradition beyond Monterey County in paintings that portray passages from The Grapes of Wrath. A neuropsychologist by training, Clavier unites science and the visual arts in painting that would have appealed strongly to Steinbeck's sense of unity, universality, and nature. "As a visual artist," says Clavier, "I dream that I might replicate the magnificent imagery of the world, and by doing so, remind others of their own core decency," adding that "each day, I try to experience what American author and Nobel Laureate John Steinbeck described as awe, humility, and joy."
The Visual Arts in Action: Warren Chang and David Ligare
David Ligare and Warren Chang are leading examples of contemporary Monterey County artists whose work reflects Steinbeck's empathy for the dispossessed and the author's love of the Monterey County landscape. River/Mountain/Sea—Ligare's current exhibition at the Monterey Museum of Art—is a compelling example of the John Steinbeck-Monterey County-visual arts phenomenon that has made Monterey County a mecca for aficionados of the visual arts and Steinbeck fans alike. Similarly, Warren Chang's 2012 ten-year retrospective at the Pacific Grove Art Center shows the inspiration provided by Steinbeck's rich human material—in Chang's case, Steinbeck's stories of marginalized Monterey County farm workers, a major subject of the author's early writing.
Like John Steinbeck's fiction, the paintings of David Ligare and Warren Chang are technically superb, thematically coherent, and emotionally riveting. While acknowledging Steinbeck's impact on the development of their very different versions of visual-arts realism, each also notes the influence of European classicism in their work. Chang's style owes much to the paintings of Jean-Francois Millet, Rembrandt, and Vermeer. Ligare notes the rules of visual arts structure exemplified by Nicolas Poussin as an influence, along with classical art and literature—a lifelong interest of John Steinbeck, who acknowledged the role of Greek and Roman authors in his literary development, as Ligare does in the visual arts.
Like Steinbeck, Chang portrays the pain of the human condition and the triumph of the human spirit: his paintings of farm workers toiling in Monterey County fields depict disenfranchised members of modern society, as Steinbeck did in his most memorable fiction of the 1930s. By contrast, Ligare's Monterey County landscapes are devoid of human artifact or activity, relying on dramatic lighting and carefully crafted composition to suggest the tension and complexity beneath the pastoral surface.  Steinbeck achieved a similar effect with words, notably the extended description of the Salinas Valley that opens East of Eden, as well as the stories, letters, and essays in which he described the Salinas of his boyhood as a placid town with an undertone of evil.
Warren Chang's Stories on Canvas
Chang was born and raised in Monterey County and attended the Art Center College of Design in Pasadena, California, where he received his BFA in illustration in 1981. After working as an award-winning illustrator in California and New York, he eventually returned to Monterey and transitioned to an equally successful career as a fine artist. Today he is one of only 50 artists recognized as a Master Signature member of Oil Painters of America.
Chang's portfolio features interior and landscape subjects including portraits, still-life paintings, and scenes from his home, studio, and the San Francisco Academy of Art University classroom where he teaches. As Steinbeck observed, the visual arts, like literature, can tell dramatic stories that draw viewers into the picture—a truth demonstrated in Chang's Monterey County landscapes, where a single moment captured on canvas suggests the ongoing narrative of which it is a part. Chang's paintings of Monterey County field workers have been compared to the Flemish master Pieter Bruegel the Elder. Examples from Warren Chang Narrative Paintings (Flesk Publications, 2012) are shown here with the permission of the artist, whose paintings can also be seen at Hauk Fine Arts in Pacific Grove and at the Winfield Gallery in nearby Carmel. (For more information, visit Chang's website.)
Approaching Storm is a dramatic study of Monterey County workers hurrying to complete the broccoli harvest before an unseasonable storm that could destroy the crop and their livelihood. Agriculture is a major Monterey County industry: the fields dotting Monterey County's coastline and valleys produce lettuce, broccoli, and artichokes in abundance.
Day's End portrays laborers leaving the artichoke fields near the Monterey County town of Castroville at the end of the work day. John Steinbeck, who worked alongside migrant laborers as a young man, conveyed the mood and feeling of Monterey County's farm fields in carefully chosen words. Chang accomplishes the same purpose through deep shadows and late afternoon lighting rendered in subdued colors.
Fall Tilling recently won Best of Show in the 2013 RayMar Fine Art Competition. Except for the cell phone and Coke clutched by the female figure in the foreground of the painting, this characteristic Monterey County scene could have been painted using the same essential elements—mountains, fields, workers—at any time in the past 200 years. Chang's reply to a question about the meaning of his works could have come from John Steinbeck, a writer who demurred when asked about the meaning of his books. "No one interpretation is necessarily more accurate than another," says Chang. "You have the freedom to take from each painting what you will."  Ut pictura poesis: the visual arts, like literature, create images that invite us to draw our own conclusions.
David Ligare's Paintings from the Pastures of Heaven
Unlike John Steinbeck and Warren Chang, David Ligare is not a Monterey County native. Born in Oak Park, Illinois, he traveled to Los Angeles to study at the Art Center College of Design. From there—inspired, he recalls, by the writings of John Steinbeck and Robinson Jeffers—he moved to Monterey County, where he lived and worked in a small house on the Big Sur coastline, experimenting "as young artists do, with new styles and concepts."
Ligare's experimentation led to a distinctive style that he describes as "Post-Modern, Neo-Classical American," weaving contemporary retelling of Greek myths into landscapes that are instantly familiar to Monterey County residents. His paintings have appeared in numerous solo exhibitions and can be found in the collections of New York's Museum of Modern Art, the Fine Arts Museums of San Francisco, the Gabinetto Disegni e Stampe degli Uffizi in Florence, and the Thyssen-Bornemisza Museum of Art in Madrid.
The following examples of the artist's work span the period from 1988 to the present and are shown with the artist's permission. Several recent paintings appear in River/Mountain/Sea, the exhibition showing at the Monterey Museum of Art through April 27, 2014. Others can be viewed at the Hirschl & Adler Modern Gallery in New York and at the Winfield Gallery in Carmel. (For more information, visit Ligare's website.)
In "John Steinbeck and the Pastoral Landscape: An Artist's Viewpoint," a lecture delivered in 2002 at the National Steinbeck Center, Ligare explained his purpose: "I have basically made a career of pulling the past into the present." Landscape with a Man Drinking from a Spring is set in the Gabilan Mountains, not far from the site of Steinbeck's novella The Red Pony. Ligare's depiction of "a celebration of a wholesomeness that embraces both life and death"—a pervasive theme of Greek and Roman writing—shares two key symbols with Steinbeck's description of the boy Jody, drinking from a mossy tub on the Tiflin Ranch, in the first part of The Red Pony. In both painting and story, the clear spring represents life while the cypress tree beneath which Carl Tiflin slaughters his pigs signifies death, unavoidable and often dirty.
After Ligare moved to Monterey County's Corral de Tierra, the setting of John Steinbeck's novel The Pastures of Heaven, the Monterey County landscape emerged from the background to dominate his paintings. David Ligare, a catalog published by the Hackett-Freedman Gallery in 1999, contains nine plates; six are panoramic views of Steinbeck's heavenly valley by the artist that could easily serve as illustrations for the novel. The subject of the catalog's cover illustration—Landscape with a Red Pony—refers to Steinbeck's story of adolescent initiation in rural Monterey County, written when the struggling author and his wife Carol were intimately involved with Monterey County's Depression-era visual arts scene.
Ligare explains why he likes to paint in the "golden hour" of the late Monterey County afternoon: "No matter whether I'm painting a simple rock or a figure in a landscape or a still life, it's important to me to use the late afternoon sunlight and to create a sense of wholeness by recognizing all of the direct and indirect light sources. Everything in nature is a reflection in one way or another of everything around it."
River is one of three monumental paintings in the River/Mountain/Sea exhibition created by the artist in homage to his adopted Monterey County. Like Mountain and Sea, it represents an iconic Monterey County location featured in Steinbeck's fiction. Ligare's river scene shows the Salinas River as it emerges from the valley's mouth into its broad agricultural plain. Mountain depicts majestic Mount Toro and Castle Rock—the rock formation that fired John Steinbeck's boyhood imagination—as shadows fill the folds on Mount Toro's western flank. In Sea, the third painting, granite tidal rocks are lit by the last rays of the evening sun near Lover's Point in Pacific Grove.
Visiting Monterey County? Don't Miss Masters in Miniature
Miniatures, the Monterey Museum of Art's annual holiday exhibition and fundraiser, features 300 paintings, photographs, prints, sculptures, and mixed media works contributed by Monterey County artists for purchase through the sale of raffle tickets. Paintings by David Ligare and Warren Chang are among the most highly sought-after works featured at the event each year. Chang and Ligare's 2013 offerings capture the essence of their art in the 7 x 9 inch-limit format mandated by the museum for paintings contributed to the show: Ligare's Pinax, a meticulously rendered image of a Monterey County pine cone on a polished pine wood mount, refers to Dionysus, the Greek god of wine who sported a pine cone on top of his staff. Chang's Master Study of Velazquez's "The Fable of Arachne" displays the artist's trademark use of highlights and shadows in an intimate portrait of a woman winding a ball of wool. Miniatures is open through December 31. If you're visiting Monterey County during the holidays, don't miss it.
Photo of Warren Chang by Sonya Chang, courtesy of Warren Chang. Photo of David Ligare courtesy of David Ligare.