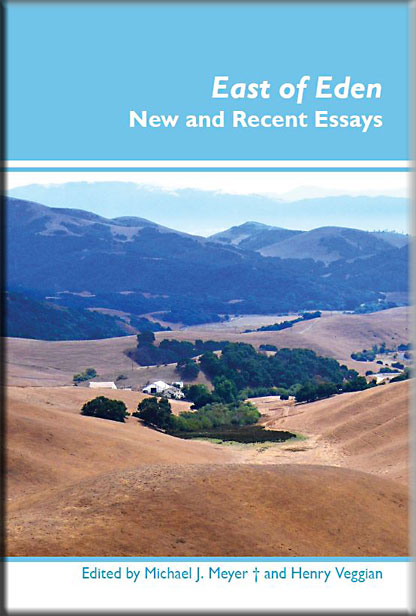 The University of North Carolina's English department always had a great reputation. I should know. I attended in the 1960s, when American literature was thought to have ended with William Faulkner and John Steinbeck was politely ignored. The distinguished Steinbeck scholar Susan Shillinglaw wrote her doctoral dissertation on James Fenimore Cooper there several years after I finished mine on Blake and Yeats. British literature since Joyce and Woolf was still considered too recent for serious study, despite the presence on campus of Anthony Burgess, author of the wildly subversive novel A Clockwork Orange, published 10 years after Steinbeck's East of Eden. Both books became successful movies, but were a world apart. So was Tar Heel and Steinbeck Country. At Chapel Hill, "east of Eden" meant the North Carolina backwater between Raleigh and the coast. Statesville may have looked like Salinas; Wilmington was no Monterey.
But I suspect that both Salinas brothers in East of Eden would have felt right at home as University of North Carolina undergraduates during my time—Cal in the go-getting young business school, Aron under the protective Anglo-Catholic wing of English department traditionalists who genuflected every Sunday during mass at the Chapel of the Cross before chatting over sherry about the Anglo-American Empire that might have been if the South had won the war. A countercultural English professor named O.B. Hardison—later director of Washington's famed Folger Shakespeare Library, a post held by a succession of University of North Carolina legends—brought his dog to the SRO classes I took under him, pulled on a pipe that he rarely lit, and taught me most of what I remember about Spenser, Milton, Shakespeare, and how to write a sentence.
So it was a sentimental journey for me to read East of Eden: New and Recent Essays, the collection recently published by Rodopi Editions and co-edited by Henry Veggian, a current English professor at the University of North Carolina. Plus a pleasant surprise: John Steinbeck has finally made it onto the  literary canon at Chapel Hill; David Laws, a  SteinbeckNow.com guest blogger, provided the image of Steinbeck Country used for the cover of the book.
Henry's introduction to the dozen essays written by various academics provides important  insights into East of Eden that he expertly organizes around appropriate musical analogies. These took me back to my days in the music building at the University of North Carolina, where I confess I spent more time hanging around musicians than I did in the English department.
John Steinbeck played the piano, loved church music, and adored jazz. So did I. I was privileged to hear Dave Brubeck premiere his jazz cantata Light in the Wildnerness in the Hill Hall auditorium where I took weekly organ lessons, and I played on Sundays at the Lutheran Church across Franklin Street from the Anglo-Catholic Chapel of the Cross. Steinbeck admired the English who lived in Somerset, where he spent his happiest year with his wife Elaine in 1959. I loved my University of North Carolina Lutherans, who had no trouble singing Bach's German when we performed a different cantata each year during Holy Week, a lively event Bach-loving Steinbeck himself would likely have enjoyed.
It was not the historical chapters that troubled them but rather the autobiographical interjections of Steinbeck's narrator. As a result, critics argued that they might have held East of Eden in a higher esteem if John Steinbeck had not disrupted the historical-romantic narration of the Trask family with repeated autobiographical references.
But John Steinbeck never enjoyed the task of revising his writing, frequently annoyed by the suggestions emanating from agents, editors, and publishers. Most critics of his published books he considered picky parasites. East of Eden was no exception, as Henry helpfully notes in his introduction: "It was not the historical chapters that troubled them but rather the autobiographical interjections of Steinbeck's narrator. As a result, critics argued that they might have held East of Eden in a higher esteem if John Steinbeck had not disrupted the historical-romantic narration of the Trask family with repeated autobiographical references."
At the risk of disloyalty to the University of North Carolina, which had the sense to hire a teacher of Henry's obvious stature to inspire students to Steinbeck as I was once inspired to Spenser,  the ghost of the late O.B. Hardison compels me to point out two problems with East of Eden: New and Recent Essays—neither the fault of the book's co-editor, who inherited the project following the death of Michael Meyer: (1) At 67.00 euro dollars, the book is too expensive for independent scholars, limiting its readership to institutional academics with stable library budgets; (2) the essays on East of Eden vary wildly in quality, type, and readability. Several are illuminating, written in clear English that rewards careful reading. Others defy comprehension, obscured by critical jargon, teutonic sentences, and usage errors that suggest translation from a language other than English.
John Steinbeck's only specific criticism of a new novel not his own can be found in the comments he wrote about The Sergeant, a successful first novel by Dennis Murphy, the son of Steinbeck's childhood friend and identified by some Salinians as the model for Cal Trask in East of Eden. Steinbeck's critique of Murphy's ending for the novel was constructive, and Murphy said he understood it. I know I'm no John Steinbeck, but my lingering loyalty to the University of North Carolina and my newly discovered respect for Henry Veggian compel me to share advice from my own experience as an editor and writer with writers, editors, and publishers of future books about John Steinbeck:
1. Writers of Articles
Find a "text buddy" in another department—someone you can trust for candid feedback—and share your final draft for close reading by friendly eyes before you release it to your book editor. Every writer needs a editor close at hand with the writer's individual interest at heart. You don't have to bed or marry yours, as Steinbeck did Carol Henning, but if your obsessive-compulsive colleague in physics doesn't understand what you're trying to say, chances are other non-specialists won't either, and your work will disappear in the echo chamber of contemporary academic criticism.
2. Editors of Collections
Take a day off from teaching and read every line of every submission—including footnotes and bibliographies—at one uninterrupted sitting before you consign your contributors' essays on with your introduction to your publisher. Look for errors of diction and syntax, listen for sentence length and rhythm, and focus like a lunatic on consistent capitalization, abbreviation, and punctuation. If you miss distracting variances in the use and spacing of dash marks, for example, don't assume that readers and reviewers will be less than unforgiving.
3. Publishers of Academic Books
Hire an experienced copy editor. At 67  euros you can afford it. The book editor back at the University of North Carolina is already busy with other duties—teaching, research, the next publication project—but you have one overriding responsibility before you go to press: Find and fix every error overlooked in haste by the editor on campus. I've saved my wagging finger for you as I head out the door because I think you deserve it. As I read East of Eden: Essays New and Recent and walked down memory lane to the pre-digital publishing dawn of time, the ghost of O.B. Hardison kept whispering: "What were they thinking?" I'm pretty sure he meant you.