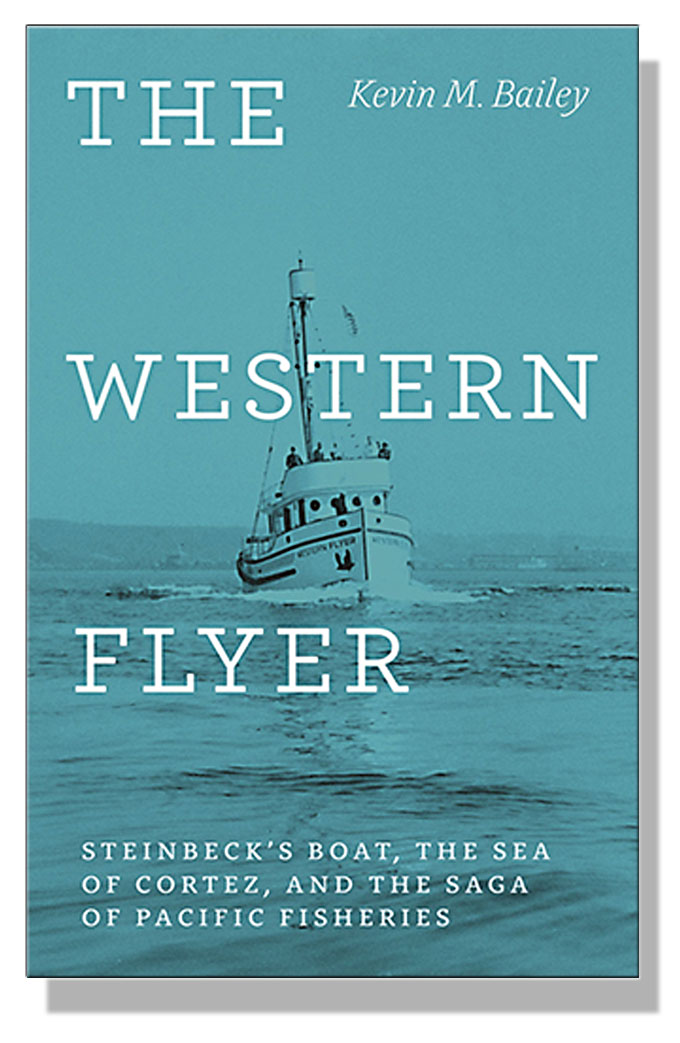 How can I begin a review of The Western Flyer: Steinbeck's Boat, the Sea of Cortez, and the Saga of Pacific Fisheries without stating upfront that I have rarely marked or underlined a book so much as this little volume? A historian's habit, perhaps, but this book demanded more focus and rereading than almost anything in my recollection. As you may glean from its dust jacket and cover flap, the author has utilized for the basis of the book the storied accounts of a boat—The Western Flyer—arising from its famed 1940 voyage of science and leisure to Baja California's Sea of Cortez. Chartered by author John Steinbeck and accompanied by his friend and collaborator, the marine biologist Ed Ricketts—the "Doc" of Steinbeck's Cannery Row and Sweet Thursday—its timing also removed Steinbeck from the vitriolic and dangerous reception by agricultural interests of his recently published novel The Grapes of Wrath, which exposed the hardships of the Dust Bowl Migration.
This book demanded more focus and rereading than almost anything in my recollection.
Kevin Bailey's craft, however, is in the artifice of using the widely recognized popularity of the John Steinbeck-Ed Ricketts voyage as the vehicle for his personal and professional quest. Like Ricketts, a marine biologist, Bailey astutely chose The Western Flyer for its literary and ecological celebrity. But more to his purpose, the irony of the vessel's guilty participation during subsequent decades in the devastating collapse of four major fisheries of the Pacific Northwest is concisely and poignantly documented. The account of ecological alarms unheeded merges with a fascinating new exposition of an aspect of John Steinbeck and Sea of Cortez only now gaining the appreciation it deserves: Steinbeck's collaboration with America's most important marine biologist, Edward F. Ricketts, and the role of The Western Flyer.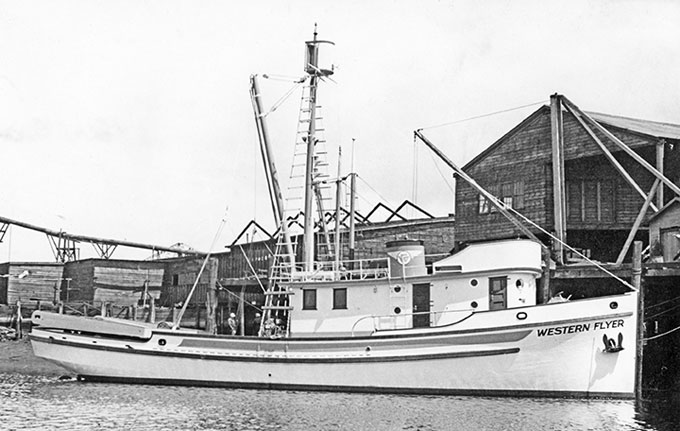 For the first time in popular print, Bailey details the saga of this classic American fishing vessel, designed and built with perfectionist expertise by the Croatian boat builders of the Tacoma, Washington, area in the late 1930s. His account of the Western Flyer's timeline begins with construction at Western Boat Building by the boatyard's Dalmatian owners (shown here, from right): Martin A. Petrich, Frank Berry, and Tony Berry, Frank's son and the skipper of the boat when it launched in May of 1937. Here's where Bob Enea, a personal friend and a source for Bailey's research, comes in: Tony Berry married into Enea's family, enabling Berry to become a member of the Monterey, California, sardine purse-seine fleet, even though he wasn't Sicilian. Bob Enea's intimate family familiarity with this topic enabled Bailey to explain how John Steinbeck was ultimately successful in chartering the last available boat in the Monterey fleet for the Baja expedition. Virtually all the Sicilian boat owners were leery of Steinbeck's pro-union sympathy, and many probably considered him a Communist, as his critics among California's corporate elite claimed. And then there was the conundrum of a chartering all the way to the Gulf of California—not to fish!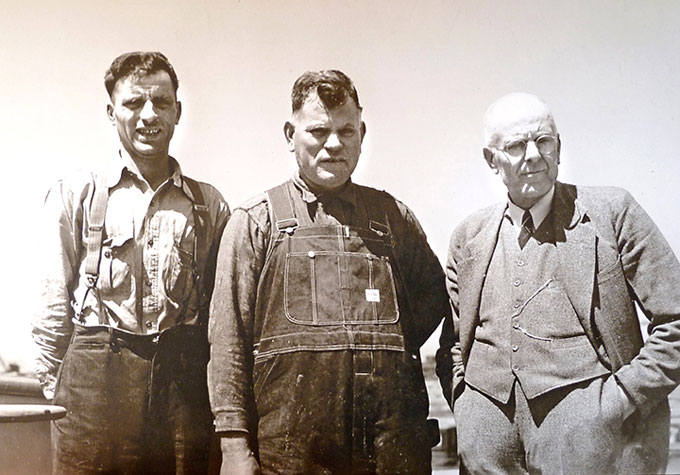 Bob's contribution to this powerful little book did not end there, however. Tony Berry, the owner and skipper of The Western Flyer, and the colorful deckhand Horace "Sparky" Enea were both his uncles, making possible a level of informed appreciation of life aboard ship absent from even the most informed readings of Sea of Cortez and its reissue with Steinbeck's essay "About Ed Ricketts" as Log from the Sea of Cortez in 1951. I am not going to dwell on the voyage for those readers already familiar with John Steinbeck's classic account of the serious collecting and crazy escapades aboard and ashore in Baja—except to say that Bailey's work presents another charming and informative dimension of the story for neophytes venturing into the pages of Sea of Cortez for the first time.
Bailey quotes some of the best of the John Steinbeck who described in Sea of Cortez the relationship he experienced with The Western Flyer as a form of man's communion with boats for millennia:
The sight of a boat riding in the water clenches a fist of emotion in a man's chest. A horse, a beautiful dog, arouses sometimes a quick emotion, but of inanimate things only a boat can do it.
* * * * *
A boat, above all other inanimate things, is personified in a man's mind. . .  . Some have said they have felt a boat shudder before she struck a rock, or cry when she beached and the surf poured into her. This is not mysticism, but identification; man, building this greatest and most personal of all tools, has in turn received a boat-shaped mind, and the boat, a man-shaped soul.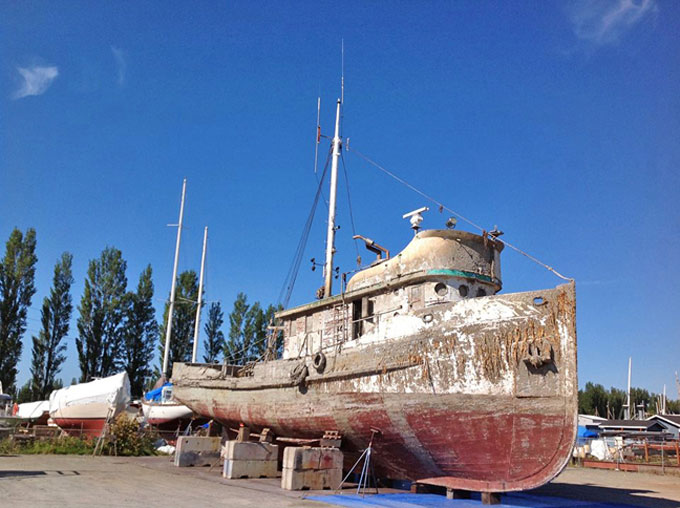 One facet of Kevin Bailey's excellent story does, however, require a re-write: the ending. At the time of publication it appeared that the fate of The Western Flyer was sealed, relegating her to a truncated or deconstructed future as part of a hotel-restaurant attraction in Old Town Salinas. Now one man with a boat-shaped mind and the will and means to save The Western Flyer has done just that. In January, marine geologist John Gregg negotiated a deal to buy the boat and remove her death by slow decomposition after two sinkings and years of exposure in a Port Townsend, Washington, boatyard. Today she resides in a boat-barn at the Port Townsend Shipwrights Co-op, where restoration by world-class wooden-boat restorers will recover her former glory.
One facet of Kevin Bailey's excellent story does, however, require a re-write: the ending.
The fate of a valiant wooden boat, threatened with destruction both natural and unnatural—as in becoming a restaurant motif—propels Bailey's highly readable text tracing The Western Flyer's timeline. Bailey's clear and concise account of her complicity in the serial destruction of crucial fisheries in the Pacific Northwest after her role in the romantic, literary, philosophical, and ecological immersion of Sea of Cortez cannot help but drive a conscientious reader toward Bailey's goal: to understand, as Ricketts and Steinbeck did, that the oceans and their fisheries must survive or we do not. Thus the Western Flyer story, so full of irony, will have a happy ending after all. A player in the mindless, greedy, irresponsible damage of untold natural fishery resources, so near death from neglect that some said it couldn't be done, The Western Flyer rises again, this time as an icon of ocean-life preservation: a seagoing classroom for students of ecology and the marine sciences.
The fate of a valiant wooden boat, threatened with destruction both natural and unnatural—as in becoming a restaurant motif—propels Bailey's highly readable text.
Kevin Bailey's little book has the tight, complete, joyful feeling of John Steinbeck's Cannery Row. Yet it's so packed with helpful information and remarkable detail that my copy was well marked up, underlined, and highlighted when I finished. Yours will be, too.
Photo of The Western Flyer after launch from Western Boat Builders (Tacoma, Washington) in 1937 courtesy Petrich Families Collection.
Photo of Tony Berry, Frank Berry (his father), and Martin Petrich, builder-owners of The Western Flyer, courtesy Petrich Families Collection.
 Photo of The Western Flyer in Port Townsend, Washington's Boat Haven Yard by Anne Shaffer, courtesy Coastal Watershed Institute.