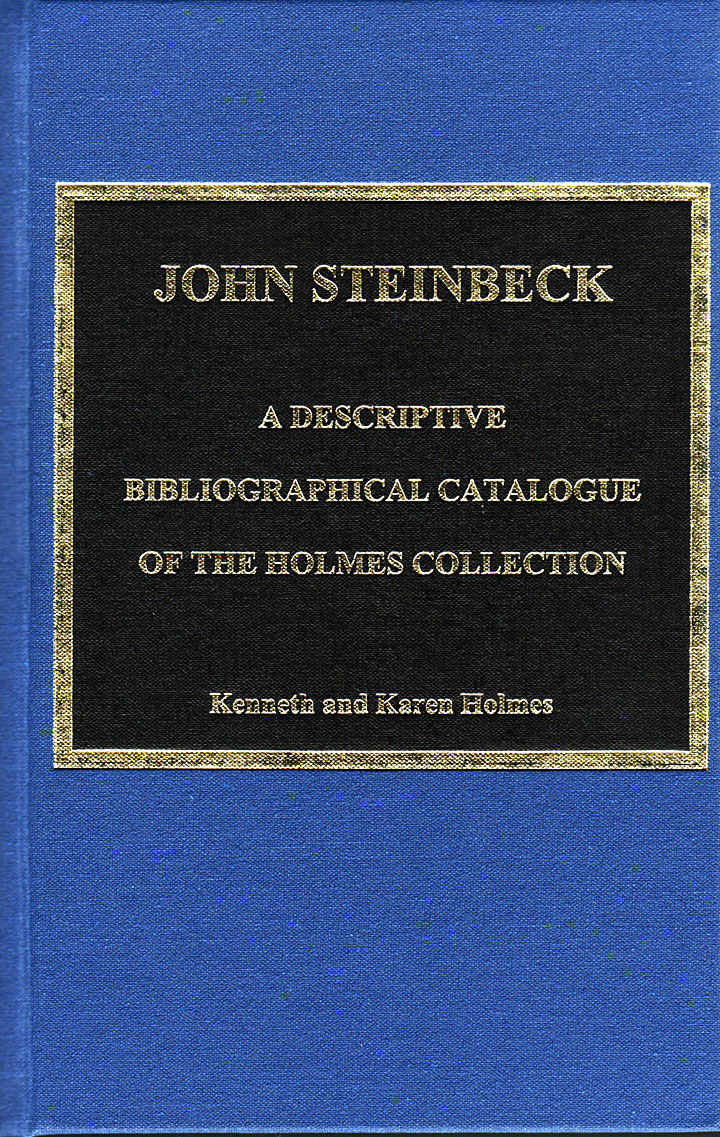 The recent publication of John Steinbeck: A Descriptive Bibliographical Catalogue of the Holmes Collection attracted attention from Steinbeck scholars and collectors and stimulated inquiries about why and how my spouse Karen and I began collecting books by John Steinbeck. This is the story behind our collection of Steinbeck works and the publication of our catalogue.
Collecting Books by John Steinbeck Becomes a Passion
We have been serious Steinbeck collectors for more than 50 years. Although we started with first editions of books by John Steinbeck and had no interest in other items, such as the little pamphlet publications of stories including The First Watch or St. Katy the Virgin, some smart antiquarian book dealers soon persuaded us to take a more comprehensive approach. Over time, this led us to look for anything we could find with a significant or interesting connection to John Steinbeck.
Approximately 20 years ago, after bringing home a little gem I had found on a dealer's shelf in Phoenix, Arizona—only to discover I already had a copy (a common experience for collectors, repeated frequently)—I realized that our collection had become too big and complex to manage from memory or by using a card file. We needed a computerized listing of what we had and chose Microsoft Access (Version 1) to design the Forms, Queries, and Reports required to accommodate a description for each separate type of item–book, periodical, foreign edition, stage or screen adaptation, and so forth. This led to creation of a notebook of printouts of 14 separate Access Reports of the material in our possession. From that point to the present, the notebook and our working copy of the 1974 Goldstone and Payne bibliographical catalogue went with us on every book hunt.
But the Goldstone book is hard to find and out of date. Eight years ago we realized that we had accumulated enough new information about John Steinbeck and Steinbeck works to produce our own catalogue as a resource for other Steinbeck collectors and scholars around the world. We decided to pattern our catalogue on Goldstone and Payne, but to make it more useful by employing today's technology. Thus began the long process of editing and revising our collection catalogue into publishable form. The result of our work has been reviewed in various Steinbeck publications, so I won't detail the contents of our catalogue. Instead, I'd like to share the story of how we came to create it.
When Public Access, Not Making Money, Is the Purpose
Initially, we hoped to have our work produced and marketed by one of the publishers with a history of printing critical works on Steinbeck and began by contacting the publisher of the Goldstone catalogue, which was limited to 1,200 copies. They declined, explaining that, while in 1974 they could count on a substantial purchase by libraries, today fewer institutions were likely to buy a bibliographical catalogue. So we published our book ourselves at a modest print-run of 250 professionally manufactured copies. The price is under $40 and well within the budget of most buyers—a fact noted by reviewers.
One of the dealers who received a copy noticed this, too, commenting: "Looks great. Lots of work. Could have priced more."  He was right, of course: the book and its accompanying DVD are worth far more than the price we charge. And that leads me to our purpose in publishing John Steinbeck: A Descriptive Bibliographical Catalogue of the Holmes Collection. Money wasn't our motivation. If we sell every copy we printed we could make a small profit. If not, the project was worth doing for its own sake.
Karen and I are proud of our collection; our catalogue is a permanent record of what we achieved in the course of pursuing our passion for collecting books by John Steinbeck. We gave copies to members of our family and to friends and acquaintances who helped or encouraged our labor of love. We also provided courtesy copies to 10 institutional libraries in the United States that house important collections of Steinbeck books, including the National Steinbeck Center in Salinas and the Martha Heasley Cox Center for Steinbeck Studies at San Jose State University. We encouraged each to make the electronic files of the catalogue—and of Steinbeck Firsts images by Phil Ralls and other details embedded in the book's accompanying DVD—available to the public, free of charge, on their website. We want the broadest public distribution of the information we have assembled.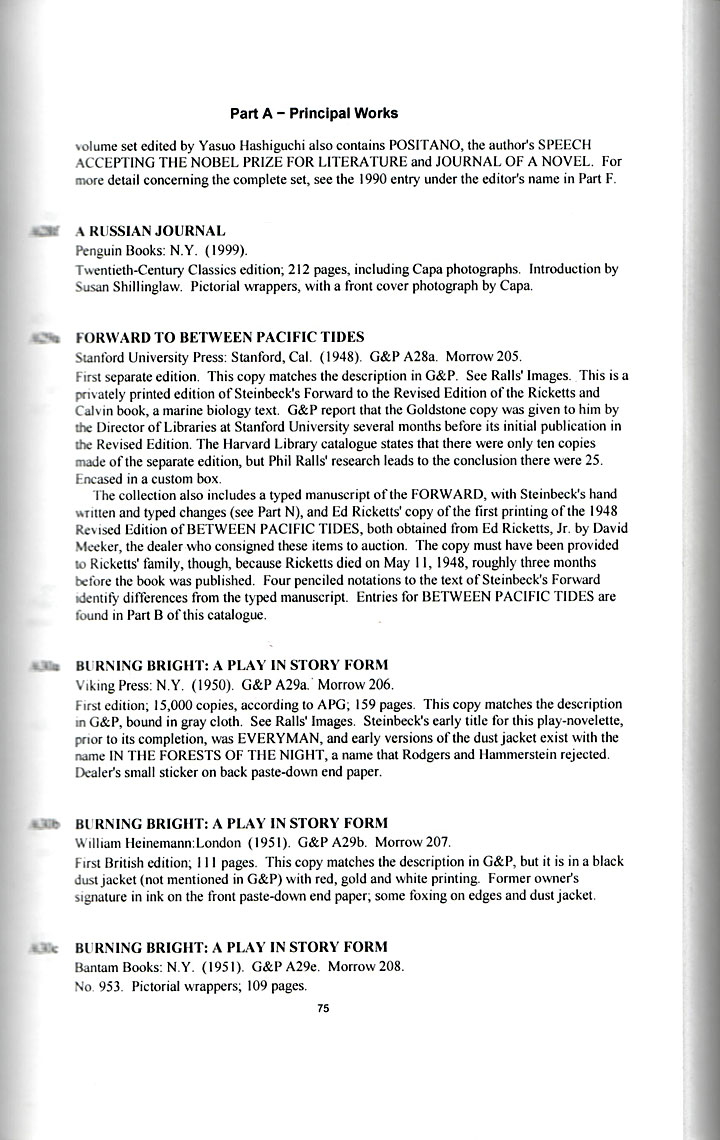 How Technology Helps Collectors Use the Catalogue
Collectors familiar with traditional bibliographical catalogues such as Goldstone's are aware that they describe the materials they list using words and code. The title page of the first British edition of Tortilla Flat, for example, reads: "TORTILLA FLAT | By | JOHN STEINBECK | [colophon] | LONDON | WILLIAM HEINEMANN LIMITED," with the code mark "|" designating each end of a line of print. The half-title and copyright pages are similarly described. Comparing the description to a physical book in hand is tedious, but images of relevant pages in the first British edition of Steinbeck books are easy to compare with those in a book in hand and much more interesting to consult for most collectors.
Karen and I dreamed of compiling a catalogue that included images of key pages, not just words. Unfortunately, we learned that this would make our catalogue too expensive and bulky for our intended users. Enter the inimitable Phil Ralls, a man whose enthusiasm for John Steinbeck led him to assemble Steinbeck Firsts, an amazing electronic file of images of Steinbeck material and other detailed information interesting to collectors of Steinbeck works. Phil generously agreed to allow us to include Steinbeck Firsts on a DVD disk tipped into every copy of our catalogue. References throughout the book to "See Ralls' Images" direct users to this digital file. Following Phil's untimely death, his daughter Whitney confirmed his family's willingness for us to complete the collaborative project we had begun with our good friend.
We think the digital feature of our catalogue is a first. We had never seen or heard of a bibliographical catalogue issued with a disk of electronic files, so it seemed a significant step forward for scholars and collectors of Steinbeck books, and reviewers agreed. We even included a PDF file of the entire catalogue on the disk in the interest of access, portability, and quick reference to our index. (Search using the "find" feature in your computer's Adobe Reader program to locate any name, word, or phrase in the catalogue.)
Another innovation reflecting our motive to help others collect, study, and write about books by John Steinbeck: We included additional information about a particular item described that we thought might be of interest to the scholarly or simply curious—far beyond the confines of conventional bibliograhical catalogues. For example, the section we devoted to stage and screen adaptations of Steinbeck works tells you about any awards they earned, including the Oscar nominations John Steinbeck received for several films.
Learn More About the New Catalogue of Steinbeck Works
To receive a free electronic brochure detailing the book's contents, send me an email at kholmes22@nc.rr.com. Karen and I are always happy to hear from fellow collectors and scholars of John Steinbeck. Our contacts with many of these individuals, along with our collecting experiences, have rewarded us in ways we never imagined when we bought our first edition of John Steinbeck more than 50 years ago.