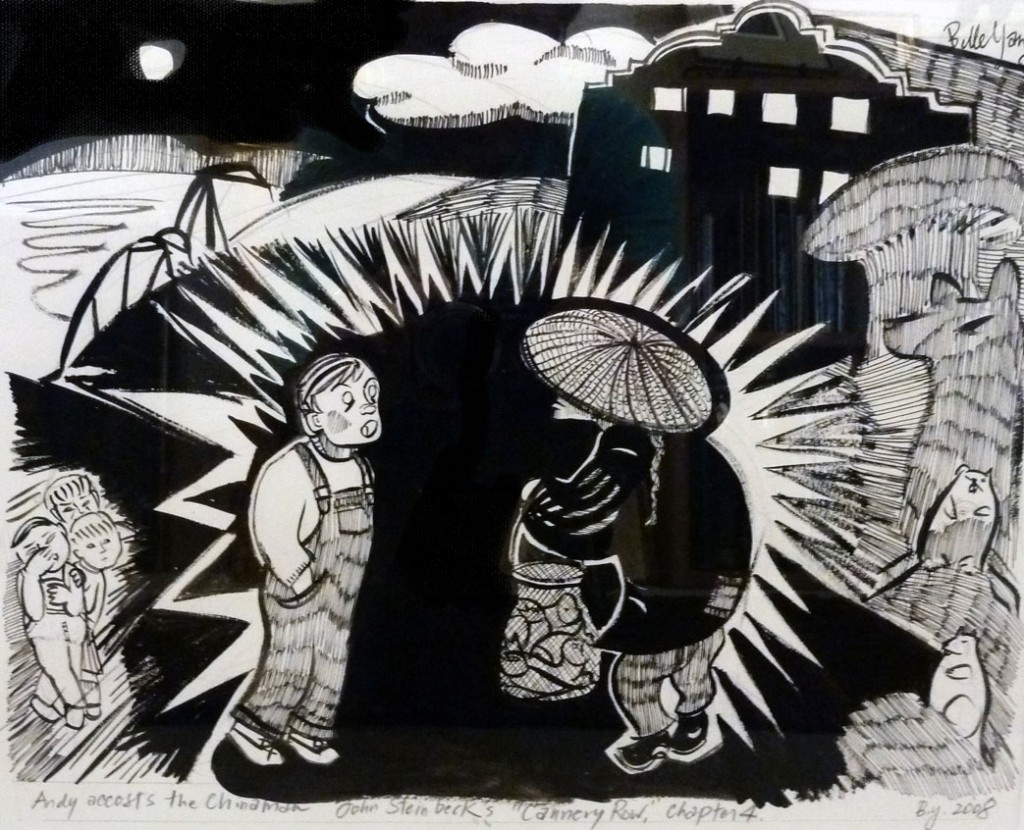 Ching-Chong, Chinaman
When Steve Hauk of Hauk Fine Arts Gallery in Pacific Grove, California, curated a show of Steinbeck art and artifacts, I contributed Ching-Chong, Chinaman, a gouache painting inspired by a scene in Steinbeck's novel Cannery Row. Andy is visiting the Row from Salinas and taunts a mysterious old fisherman. When the Chinese turns around, Andy sees the wilderness of desolation in his eyes. I once read the Steinbeck scholar Susan Shillinglaw's comment that Steinbeck had ventured into the surreal in this scene. Having listened to my parents' story of war, poverty, and devastation, I find the depiction far from surreal. I have seen loss through their eyes.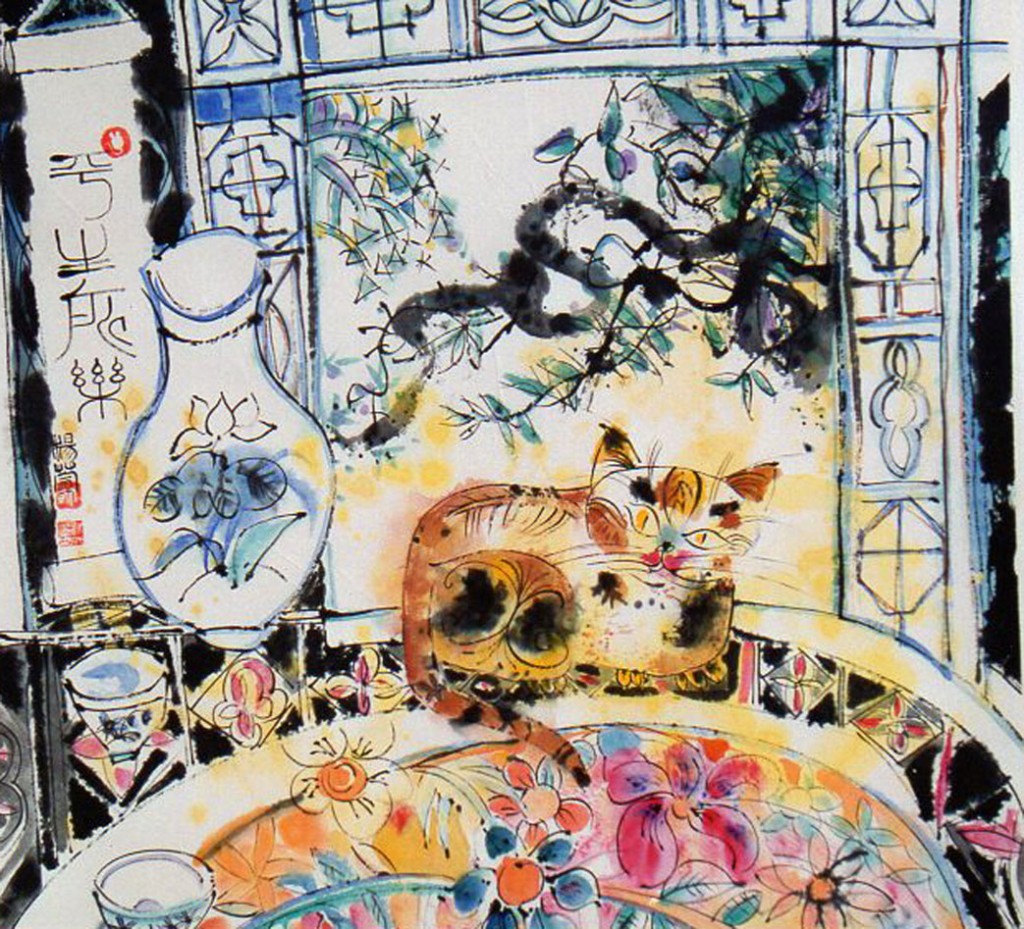 Cat in the Studio Window
This painting is from my China years (1986-89). It was made large on a flat table using traditional paper that breathes like skin. The ink seeps into the paper and blends with its fibers to produce blue-grays, silver grays, warm grays, and the blackest black. I used brushes at least a foot-and-a-half long, loving the movement of my entire body in letting the ink and pigments fly.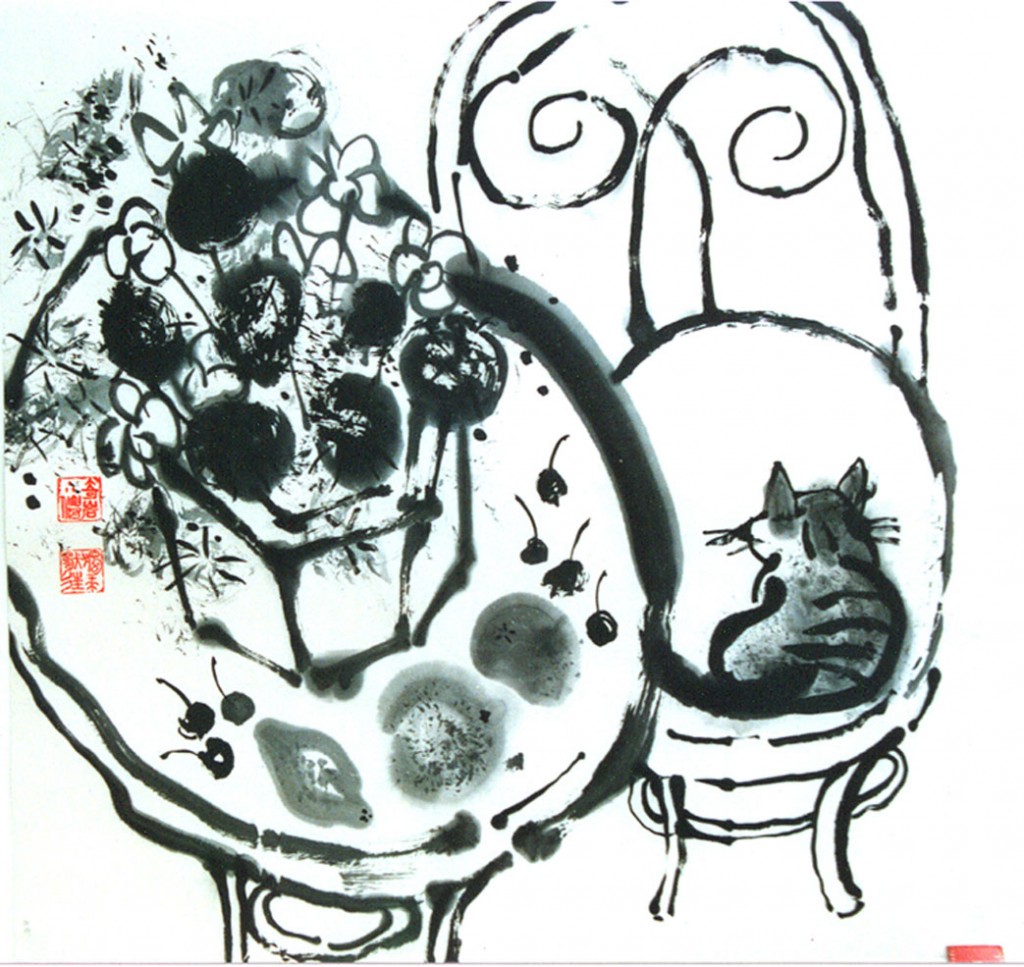 Cat in the Bistro Chair
A stray came to our house one hundred days after the Tiananmen Massacre. It seemed to my family that the cat was the embodiment of those who were crushed in Beijing by the government, only for asking for corruption to be swept out.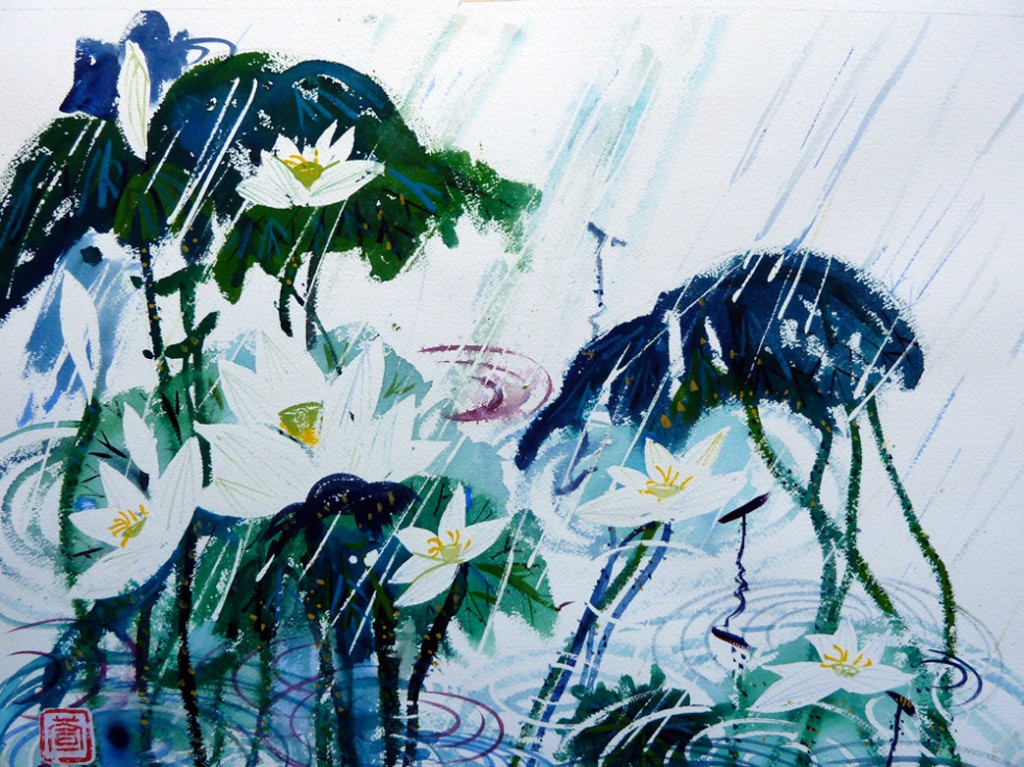 Lotus in Rain
I spent an entire year watching the growth and decay of the lotus plant. In spring, spears of leaves and the pristine flowers rise out of the muddy water. The plant signifies dignity of a man or woman who emerges out of straitened circumstances, unsullied. In summer the leaf pads catch rainwater. In autumn the stalks bend and break, re-entering the water at crazy angles. In winter the flower pods remain above the ice-bound lakes. They look like black notes on sheet music.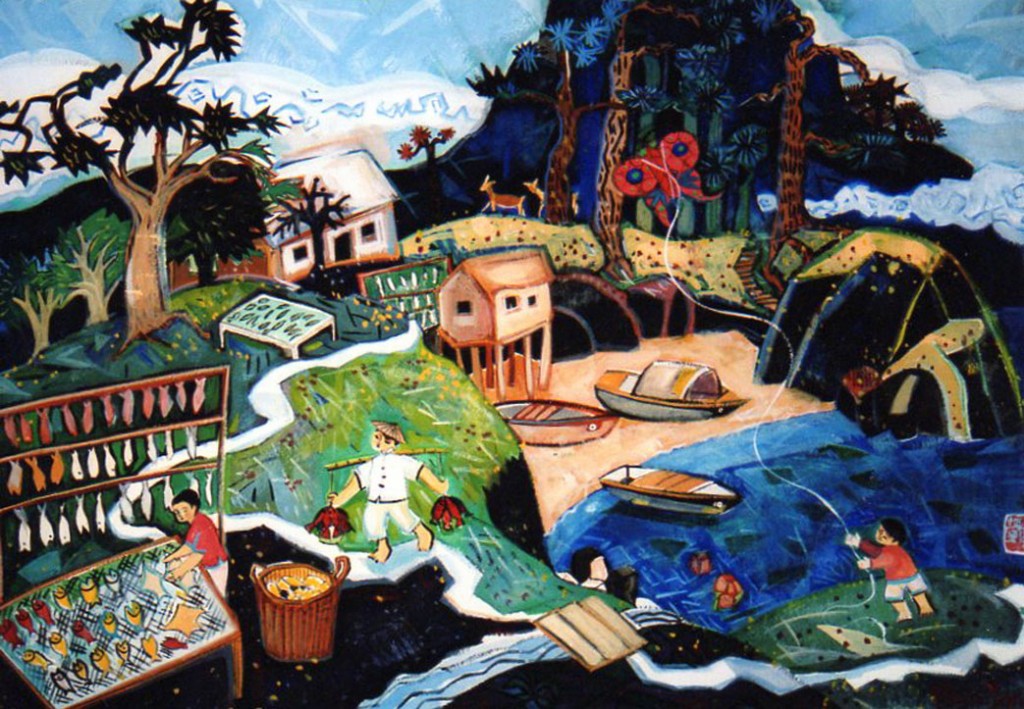 Chinese at Point Lobos
When my family moved to Carmel in 1971, we were immediately at home in the landscape that seemed to mirror a Chinese painting. It was not until after I had returned from China in 1989 that I read Chinese Gold, a book about the Chinese in the Monterey Bay and Salinas Valley. The Whaler's Cove at Point Lobos was built by the Chinese. Mahjong tiles, chopsticks, domino pieces, and shards of porcelain have been found under the floorboards of the cottage.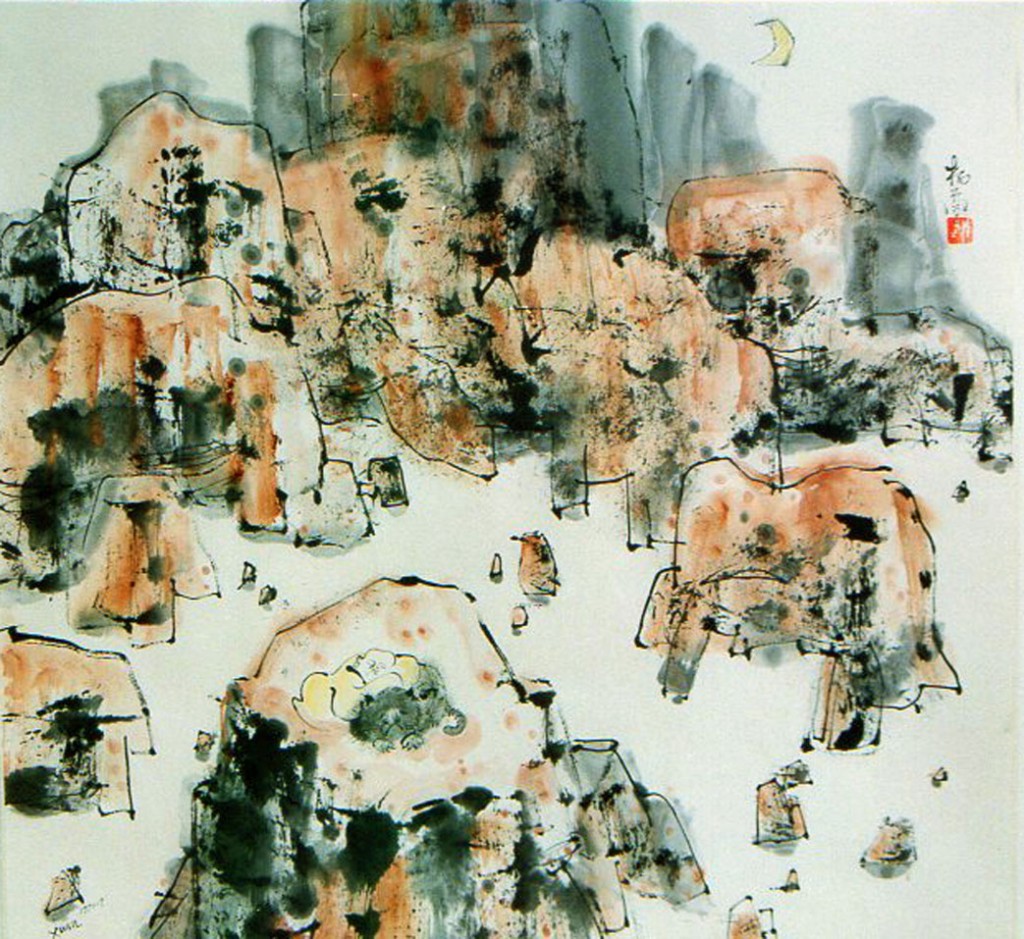 Sleeping Monk and Tiger
You see this image of monk and tiger in Zen Buddhist iconography. A man who is practiced in Zen is able to calm a tiger.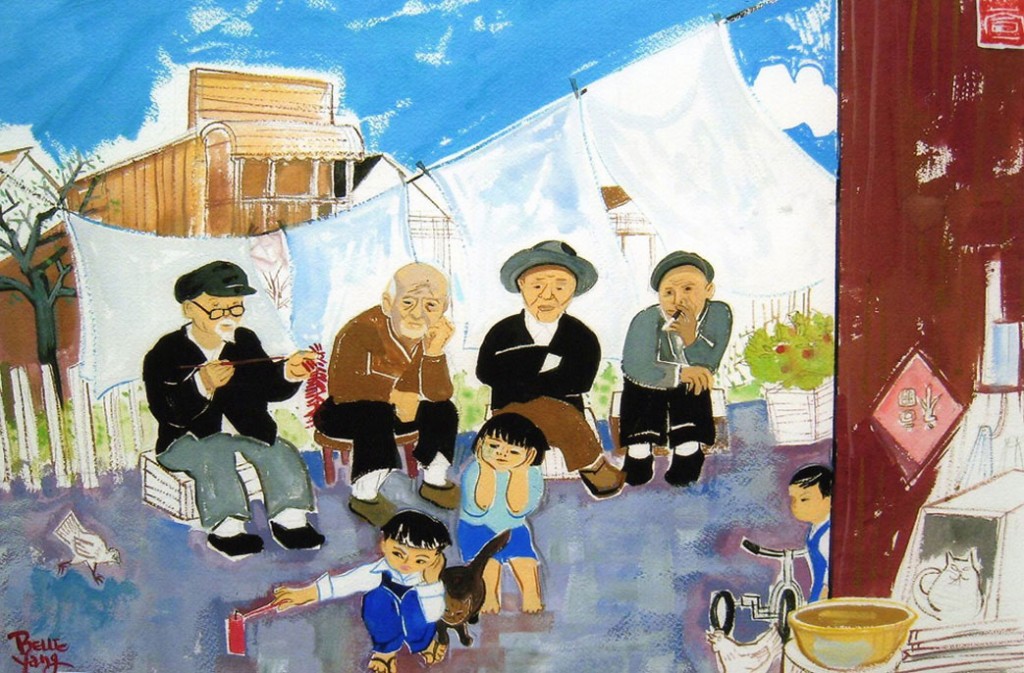 Chinamen
Following the publication of Chinese Gold, George Ow produced Chinatown Dreams: Life and Photographs of George Lee. Most Chinese men who lived in America during the Chinese Exclusion era (1882-1965) were forced to remain bachelors, for women were not allowed entry.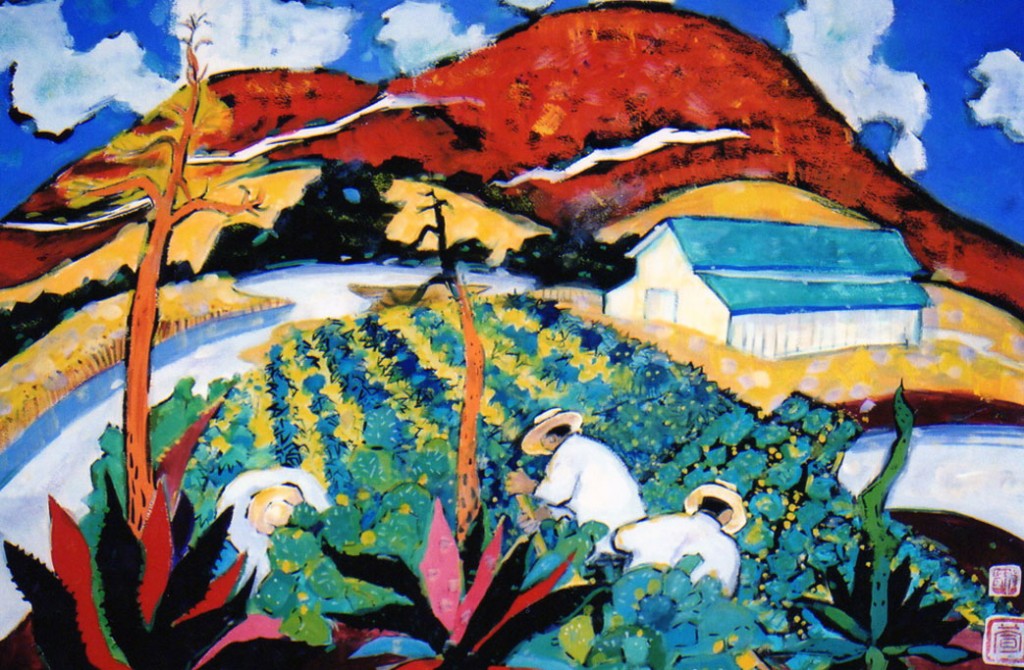 Odello Artichoke Field #1
My father Joseph, who walked over a thousand miles out of China to flee Communism, is frequently my model. He is the storyteller whose tales I've turned into books for young and old.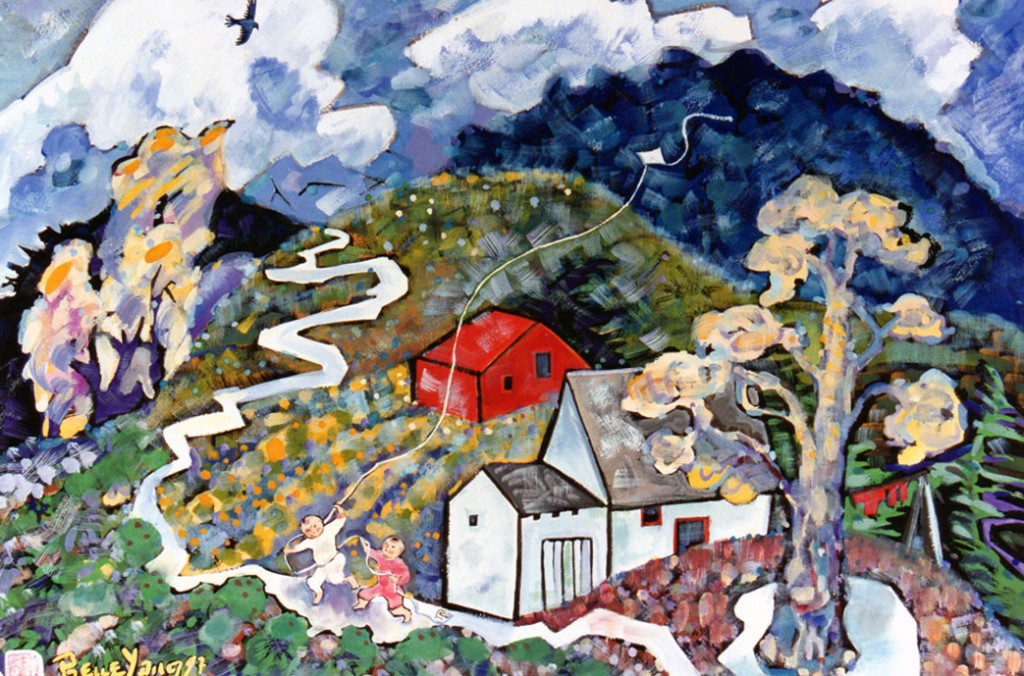 Odello Artichoke Field #2
I've known this landscape for years, and I've lived in this house overlooking the Carmel River and the Palo Corona Ranch, now a regional park. I've scrambled in and out of the hills. I've come to love the landscape's flora and fauna; I've crossed its creeks and bathed in its swimming holes.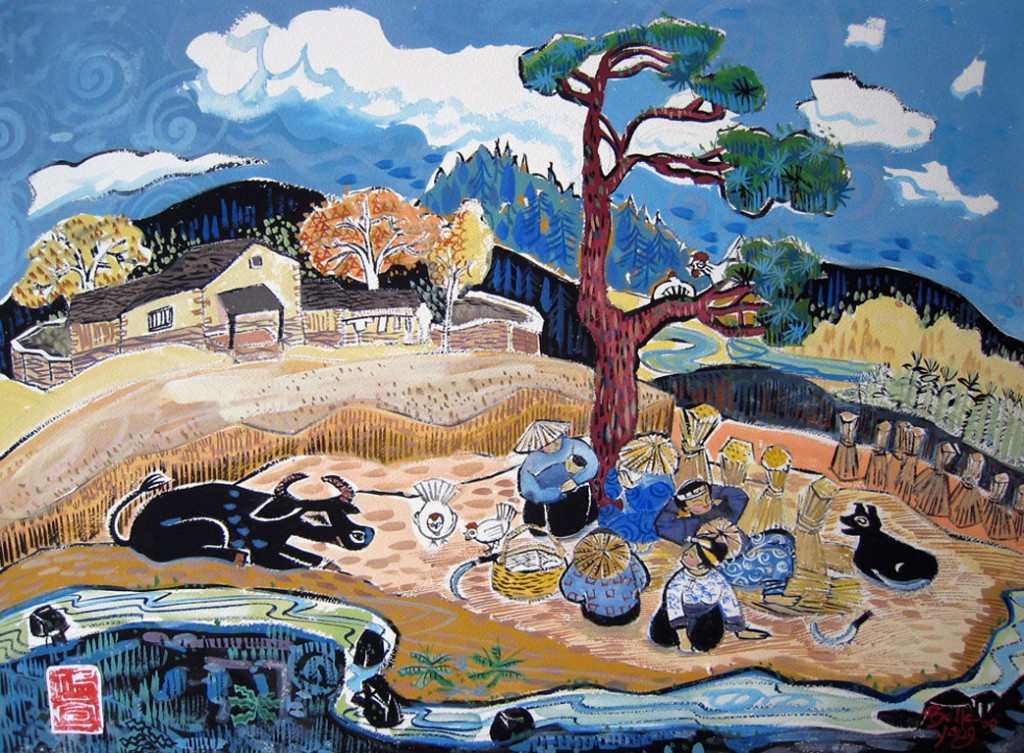 After Brueghel
I've been entranced by Brueghel's work since I was small, loving to see all the activities of dancing peasants, field workers at supper, hunters in the snow, children on skates, men and women cutting hay or erecting a scaffold for a hanging. In China I saw country folk similarly engaged in the myriad activities of a full life. In the developed West we may drive for hours on a highway, only to see a man pumping gas, a few cyclists, but mostly other drivers.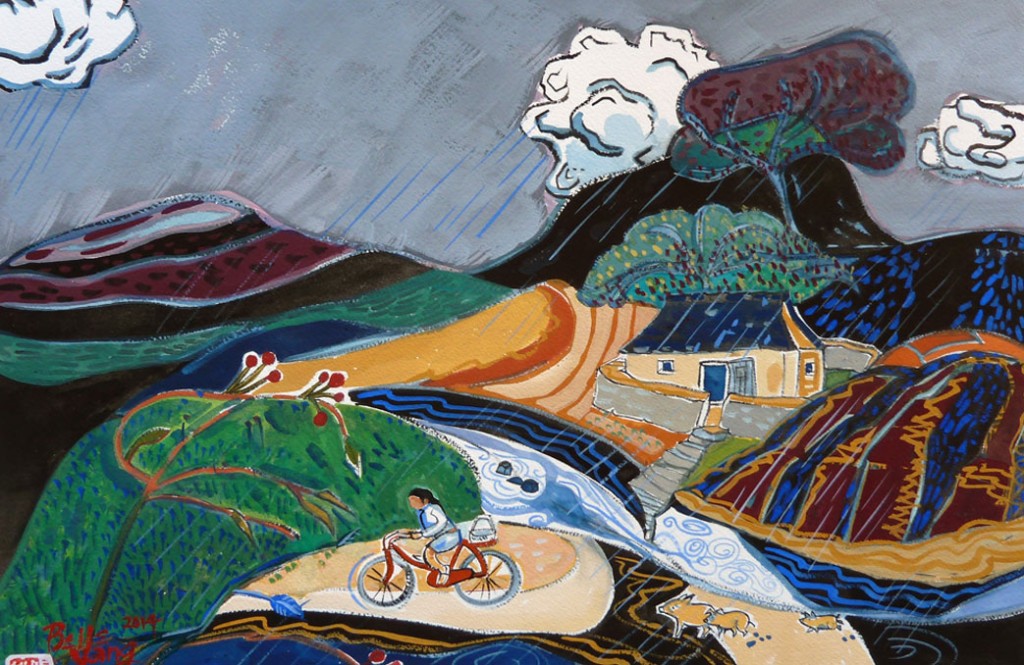 Cyclist in the Rain
I'm drawn to paintings of rain. I wonder why rain isn't a more prevalent subject for other artists? I suppose it's because of the lack of rain in California, a desert and semi-desert environment that gives me the great yearning for the mutter of raindrops on the earth, the fragrance of water on hot, dusty soil. In the words of the novelist Iris Murdoch, "The bicycle is the most civilized conveyance known to man. Other forms of transport grow daily more nightmarish. Only the bicycle remains pure in heart."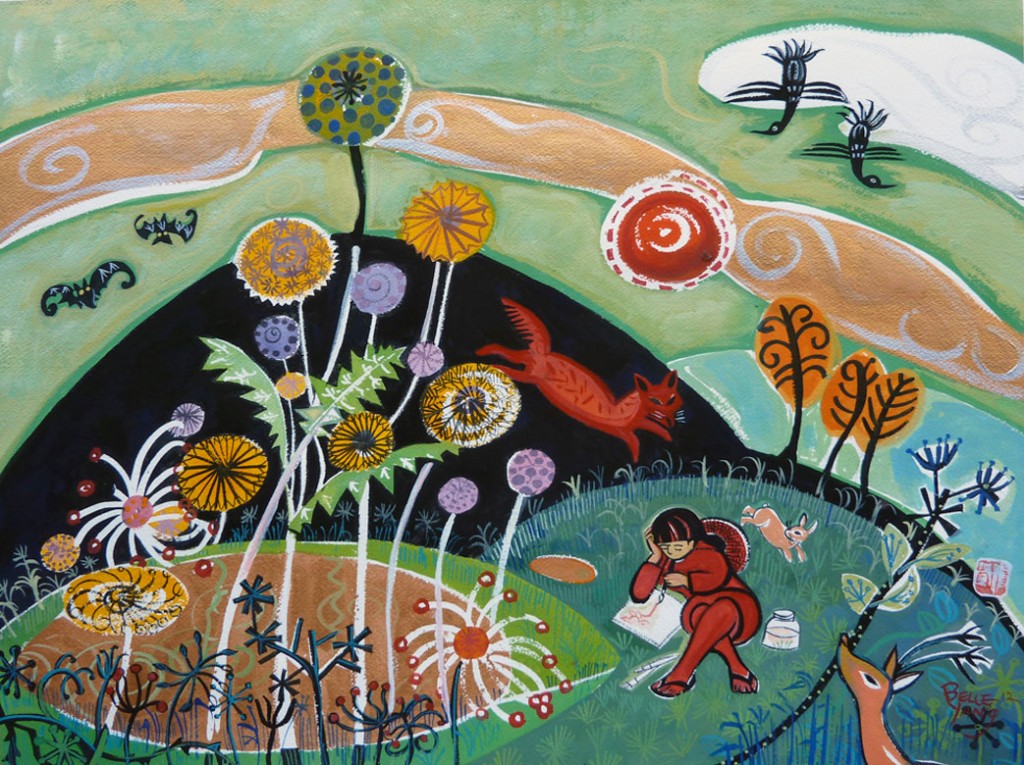 Plein Air
I started to take art "seriously" at age 11 when I tagged along with watercolorist Nancy Johnson, who lived across the street. She was sympathetic to this only child who was new to the neighborhood.  She drove us in her green VW bug to Point Lobos, Carmel Meadows, the beach, and Cannery Row, where her elderly students were waiting for her morning painting demonstrations.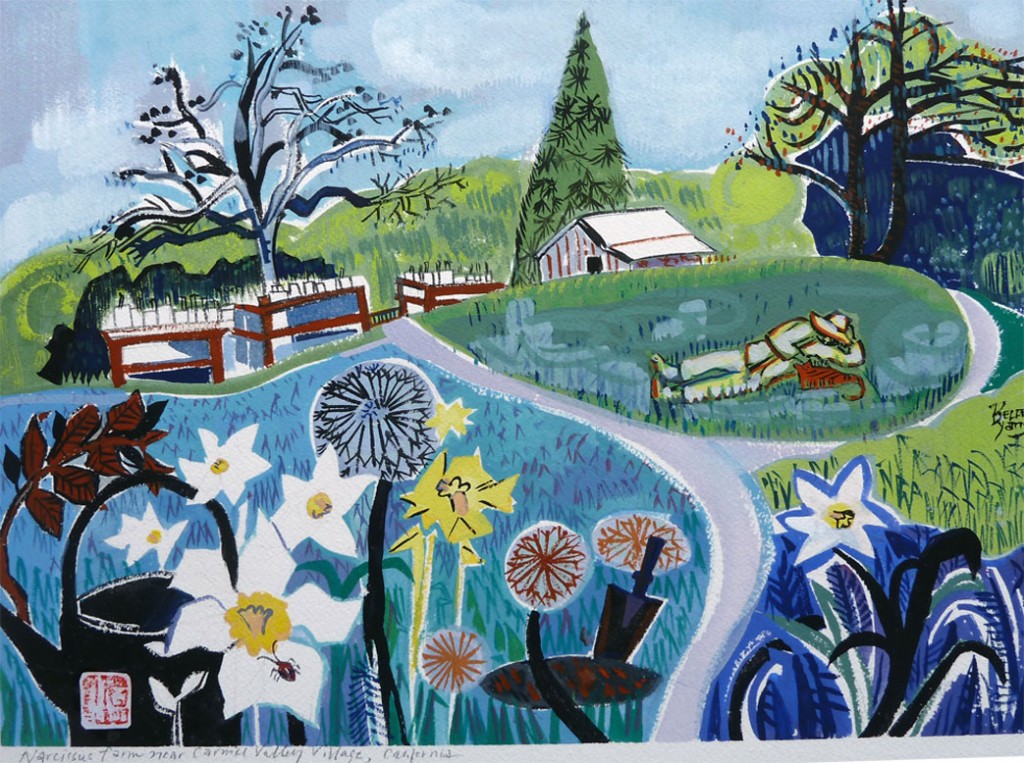 Narcissus Farm
Sitting in a field of fragrant narcissi in Carmel Valley on my birthday, my pant legs are soaked by the leaves and flowers dappled with previous night's rain. I draw on site, then return to my studio to paint. Sometimes years may have passed when I finally return to the drawing to recreate the texture and feeling of that day.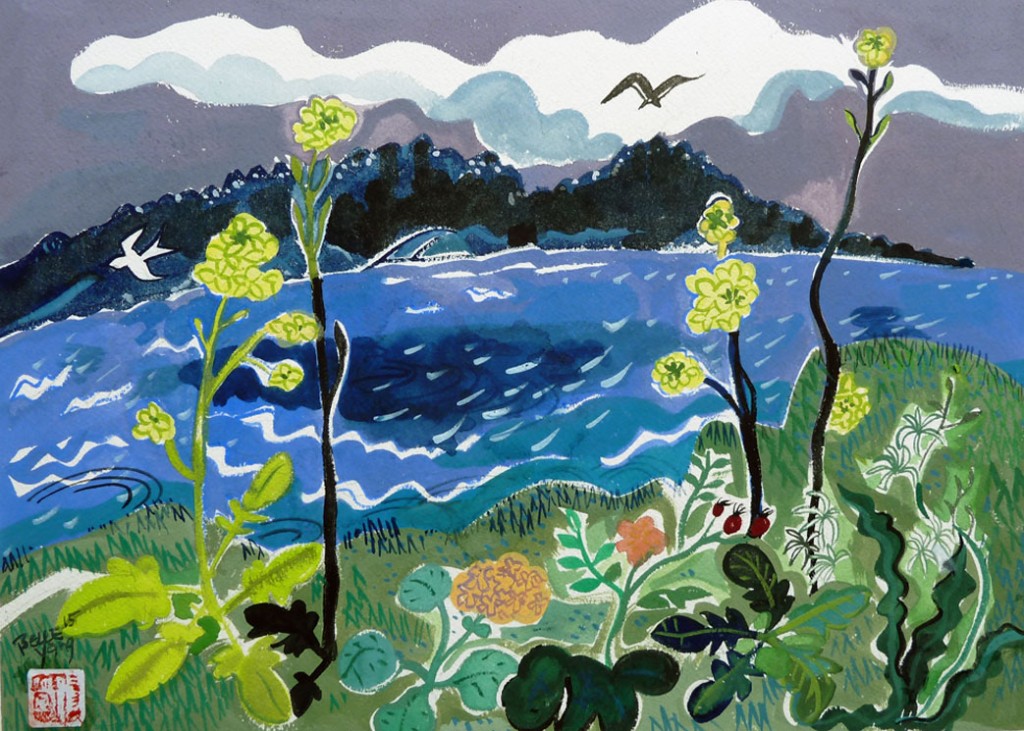 Point Lobos
Iconic subjects like Point Lobos, looming across Monterey Bay, are hard to paint. I had a breakthrough when I began to look closely at the patterns everywhere: foliage, vine, pine needles, shrubbery in the distance. From the low-angle perspective of the plant—as opposed to the bird's-eye-view of a Chinese landscape painter—I was able to see Point Lobos with washed eyes.
Learn more about Belle Yang's life and work in her own words.