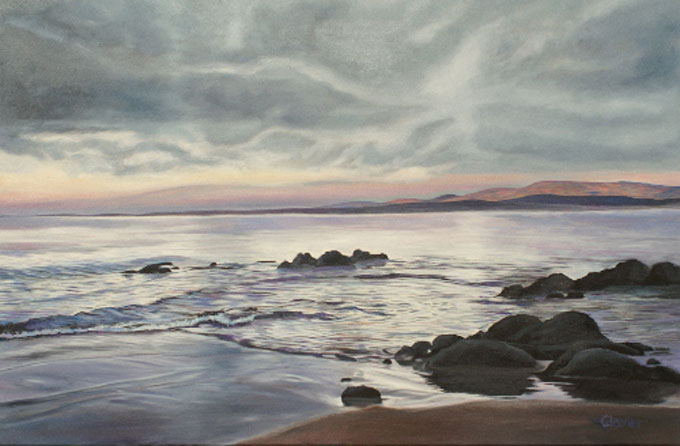 Donald Trump's upcoming presidential inauguration is seen by many as ushering in a bizarre and unprecedented era, not only for Americans, but also for citizens of other countries. Yet, like similar ceremonies elsewhere, the presidential inauguration is merely a point on a timeline that began decades ago and culminated in the 2016 election. Because the trend is longstanding and disturbing, the outcome at hand threatens to take the course of history in a dangerous direction. Indeed, it might be said that deep beliefs of the American people, and profound principles of American democracy, are at the heart of an evolutionary process which, perhaps inevitably, produced the society reflected in the 2016 election.
For me, chief among the past thinkers who foresaw this most clearly is John Steinbeck, the writer who has most inspired my thinking and my art. For four decades he wrote of his love for America and his hatred of what his countrymen were doing to their country. Though the 2016 election might have been worse, past political campaigns have had their share of ugliness, as Steinbeck wrote in America and Americans, the last book he wrote. In it Steinbeck described the scars left by elections which he observed closely as a citizen, and in which he frequently participated by giving advice and drafting speeches on behalf of Democratic candidates for president. I would like to quote passages from Steinbeck's writing, starting with America and Americans, to help readers of all cultures and all ages today comprehend Steinbeck's moral genius in the context of the 2016 election and the upcoming presidential inauguration.
Once the nominations are completed, the campaigns for election begin—hurtful, libelous, nasty, murderous affairs wherein motives are muddied, names and reputations beshitten, families tarred and tawdried, friends and associates mocked, charged and clobbered. . . . In fact, the rules of nonsense are suspended during a Presidential election, as well as memories of honesty and codes of decency. (America and Americans, 1966)
While campaigning in 2015-16, Trump not only bragged about his repeated abuse of women, he also took advantage of campaign speeches to mock and blame women, as stupid men always have, for the infidelities of their men. How any woman could have voted for so misogynistic a man is beyond all reason. But this is only one example of his breathtaking disregard for the necessity and sanctity of societal rules. While insisting on law and order for others, he repeatedly flouted fundamental rules of engagement in past election discourse. In ignoring the traditional imperative of constructive and respectful debate—ridiculing the infirm, insulting opponents, disdaining other races and religions—he highlighted the very worst characteristic of the human species: cruelty.
It is the race, the species that must go staggering on . . . our ugly little species, weak and ugly, torn with insanities, violent and quarrelsome, sensing evil—the only species that knows evil and practices it—the only one that senses cleanliness and is dirty, that knows cruelty and is unbearably cruel. (Burning Bright, 1950)

Over the millennia most of us have learned to obey the rules or suffer punishment for breaking them. But most important, even the rule-breaker knew he was wrong and the others right; the rules were understood and accepted by everyone. . . . Could this be our difficulty, that gradually we are losing our ability to tell the difference? The rules fall away in chunks and in the vacant place we have a generality: 'It's alright because everybody does it.' (America and Americans)

It is a rare morning when our newspapers do not report bribery, malfeasance, and many other forms of cheating on the part of public officials who have used the authority vested in their positions for personal gain. Of course we don't hear of the honest men, but the danger lies not in the miscreants but in our attitude toward them. Increasingly we lose our feeling of wrong. (America and Americans)

It is probable that here is where morals–integrity, ethics, even charity–have gone. The rules allowed us to survive, to live together and to increase. But if our will to survive is weakened, if our love of life and our memories of a gallant past and faith in a shining future are removed–what need is there for morals or for rules? Even they become a danger. (America and Americans)
In promoting his violent version of authoritarian populism, Donald Trump used outrageous lies, frequently disproved, to foster fear and anger in the American electorate. For example, last August he accused President Obama and Hillary Clinton of "founding" the Islamic State, the same method used by McCarthy to smear citizens and officials he accused of aiding Russia.
. . . as Joseph McCarthy proved, the more ridiculous the charge, the less possibility there is of defense. (America and Americans)

Now for many years we have suckled on fear and fear alone, and there is no good product of fear. Its children are cruelty and deceit and suspicion germinating in our darkness. And just as surely as we are poisoning the air . . . so we are poisoned in our souls by fear, faceless, stupid, sarcomic terror. (Once There Was a War, 1958)
The job insecurity and looming poverty that threatens many Americans has placed real fear in their hearts. Trump succeeded by exploiting this unrest, as well as claims about "illegal immigrants" that are as effective today as they were when Steinbeck used them to plot The Winter of Our Discontent.
Men don't get knocked out. . . . What kills them is erosion; they get nudged into failure. They get slowly scared . . . It rots your guts. . . . I can't think beyond next month's payment on the refrigerator . . . I hate my job and I'm scared I'll lose it. . . . But I know when you're sick you need medicine or maybe an operation or maybe a shock. Our people were daring men. You know it. They didn't let themselves get nibbled to death. And now times are changing. There are opportunities our ancestors never dreamed of. And they're being picked up by foreigners. Foreigners are taking us over. Wake up . . . . (The Winter of Our Discontent, 1961)
And those who believe that these elements of the 2016 election were without precedent, or are likely to go away soon, are kidding themselves.
Ideas are not dangerous unless they find seeding place in some earth more profound than the mind . . . .they are ineffective without the black earth of discontent to grow in . . . . In each case, the idea is dangerous only when planted in unease and disquietude. But being so planted, growing in such earth, it ceases to be an idea and becomes an emotion. . . . (Sea of Cortez, 1941)
Meanwhile, Donald Trump claimed he was "smart" for avoiding paying taxes without admitting that he did.
If a man has money, he doesn't ask, 'Can I afford this?' but, 'Can I deduct it?' Two men fight over a luncheon bill when both of them are going to deduct it anyway—a whole nation conditioned to dishonesty by its laws, because honesty is penalized. (Sweet Thursday, 1954)

There are, I am told, rich men who are willing to be dishonest. I believe I am safe in saying there are none who are willing to admit they are fools. (The Short Reign of Pippin IV, 1957)
We know about our tycoons only when they are giving something away, and their gifts and foundations are usually a means of keeping their money out of the hands of the tax collector. (America and Americans)
Trump also promised to reverse some of America's most progressive legislation and to "drain the swamp" in Washington, blaming media, political opponents, and intellectual elites for the unrest and suspicion about government that he exploited more effectively than other candidates.
. . . we seem to be in a state of turmoil all the time, both physically and mentally. We are able to believe that our government is weak, stupid, overbearing, dishonest, and inefficient, and at the same time we are deeply convinced that it is the best government in the world, and we would like to impose it on everyone else. (America and Americans)

We shout that we are a nation of laws, not men—and then we proceed to break every law we can if we can get away with it. (America and Americans)
Continuing his assault on progressive government, Trump used anxiety and anger about Islamic terrorism to churn up fear and marginalize Muslims, forgetting one of the most fundamental aspects of America's success—tolerance, acceptance, and the willingness to help others.
Americans are remarkably kind and hospitable and open with both guests and strangers; and yet they will make a wide circle around the man dying on the pavement. Fortunes are spent getting cats out of trees and dogs out of sewer pipes; but a girl screaming for help in the street draws only slammed doors, closed windows, and silence. (America and Americans)
Trump's repeated vow as a candidate to name conservatives to the Supreme Court far enough right to satisfy religious fundamentalists is a violation of a core principle guaranteed by the U.S. constitution: the separation of church and state.
We constantly rediscover the excellence of the architecture of our government. It has been proof not only against foreign attack but against our own stupidities, which are sometimes more dangerous. (America and Americans)
The narcissism of Trump's claim that only he can fix things is clinical in nature, and will prevent him from doing what doesn't benefit him personally. E pluribus unum: does he know what America's founding motto means?
The President must be greater than anyone else, but not better than anyone else. (America and Americans)
In the past, unless a president acted illegally, Americans respected both the office and the office holder. This civility has been shredded.
We give the President more work than a man can do, more responsibility than a man should take, more pressure than a man can bear. We abuse him often and rarely praise him. We wear him out, use him up, eat him up. And with all this, Americans have a love for the President that goes beyond loyalty or party nationality; he is ours, and we exercise the right to destroy him. (America and Americans)
But it isn't enough for those who oppose Donald Trump to blame those who supported him. Americans, all of them, must recognize their own contribution to, and accept responsibility for, the situation in which they find themselves.
In the present climate of whining self-pity, of practiced sickness, of professional goldbricking, of screaming charges about whose fault it is, one hears of very few who do their own time, who take their rap and don't spread it around. It is as though the quality of responsibility has atrophied. (America and Americans)
Unfortunately, a sense of entitlement to leisure and luxury at impossibly low cost has led to an obese, lazy, solipsistic, violent, substance-dependent population in some sectors of the United States. Blaming foreigners for illegal drugs, to take one example, is unacceptable. If there were no market, there would be no importation.
I strongly suspect that our moral and spiritual disintegration grows out of our lack of experience with plenty. Once, in a novel, I wrote about a woman who said she didn't want a lot of money. She just wanted enough. To which her husband replied that just enough doesn't exist. There is no money or not enough money. A billionaire still hasn't enough money. . . . Having many things seems to create a desire for more things, more clothes, houses, automobiles . . . . We are trapped and entangled in things. (America and Americans)
As a Canadian who has lived in the USA and benefited from its largess, it pains me deeply to witness this insanity. But the truth is that for too long America has touted success without admitting failure—and ignored the existence or validity of cultures in other countries, including Canada.
We in the United States . . . should be taken as a horrible example and our methods avoided by any government and people enlightened enough . . . . (Sea of Cortez)
As a scientist, I'm particularly concerned about a president-elect who ignores science when convenient and who makes frequent unfounded assertions based on hearsay rather than provable fact.
. . . the most dangerous tendency in the world is the desire to believe a rumor rather than to pin down a fact. (A Russian Journal, 1948)
Perhaps the most serious example of this ignorance is Trump's denial of global warming, which he appeared to take back slightly after being elected. Unfortunately his cabinet appointments confirm the inconvenient truth that, for purposes of governing, he doesn't believe the climate is really changing—or if it is, that human waste and carbon-dependency is a contributing factor than can or should be checked.
With our own resources we have been prodigal, and our country will not soon lose the scars of our grasping stupidity. (Sea of Cortez)

[The] tendency toward irresponsibility persists in very many of us today; our rivers are poisoned by reckless dumping of sewage and toxic industrial wastes, the air of our cities is filthy and dangerous to breathe from the belching of uncontrolled products from combustion of coal, coke, oil, and gasoline. Our towns are girdled with wreckage and the debris of our toys—our automobiles and our packaged pleasures. Through uninhibited spraying against one enemy we have destroyed the natural balances our survival requires. All these evils can and must be overcome if America and Americans are to survive; but many of us still conduct ourselves as our ancestors did, stealing from the future for our clear and present profit. (America and Americans)
Above all, Donald Trump is a bully's bully. His blatantly hyperbolic claims during the campaign callously played on the economic fears of Americans while exploiting their pain for his gain. His campaign rhetoric and behavior since winning have made me fearful, too. As a foreigner, I now fear that by setting foot in America I will be subject to the kind of disrespect and violence sanctioned, for the first time in my memory, by the highest office in the land.
Until I have evidence that this fear is unwarranted—and for as long as Donald Trump is president—I have decided not to re-enter the United States. I regret this because I have close friends and family members in America I will miss seeing. But when Americans say they want to be "great again" it sounds to me as if they will only be comfortable when they are once again the dominant "winners" of the world. It reminds me of the bully who tweets almost daily that those who disagree with him are "losers." Such disrespect makes me feel unwelcome and unsafe in Donald Trump's America.
When I joined the Advisory Board of the Center for Steinbeck Studies at San Jose State University two years ago, I hoped my work as a Canadian artist, scientist, and humanist would offer a helpful perspective and foster the values espoused by John Steinbeck in his life and writing. As a result of the 2016 election, however, I now fear that America will drift even farther from Steinbeck's hopeful daylight into the darkness of anger, cynicism, and crude mockery embodied by the president-elect.
I briefly considered resigning my duties on the Steinbeck center's board; but because I'm an optimist, like Steinbeck, I have decided to stay. I am confident that the pall over America will lift eventually, as day follows night. Meanwhile, technology makes it possible for me to participate in meetings, and Steinbeck's delicate metaphor of the "hour of the pearl" reminds us that the transition from darkness back to light is a fundamental truth of science, art, and the arc toward justice of human history.
Early morning is a time of magic in Cannery row. In the gray time after the light has come and before the sun has risen, the Row seems to hang suspended out of time in a silvery light. The street lights go out, and the weeds are a brilliant green. The corrugated iron of the canneries glows with the pearly lucence of platinum or old pewter. . . . It is a time of great peace, a deserted time, a little era of rest . . . the air is cool and fresh. . . . Very few people are about, just enough to make it seem more deserted than it is. . . . the hour of the Pearl—the interval between day and night when time stops and examines itself. (Cannery Row, 1945)
Today, on the eve of Donald Trump's presidential inauguration, I urge self-examination on others, and the resolution to forsake all that Steinbeck felt was the worse in us.
I have named the destroyers of nations: comfort, plenty, and security—out of which grow a bored and slothful cynicism, in which rebellion against the world as it is or myself as I am are submerged in listless self-satisfaction. (America and Americans)
On behalf of SteinbeckNow.com, to which I will continue to contribute, I also urge readers of this post to respond by commenting, or by sharing their thoughts in a guest-author post of their own. Whether or not you agree with my decision to stay away from America until the madness passes, engagement with American values and principles embraced by Steinbeck during his lifetime is to participate in the books he wrote in the way he wanted: actively, with empathy, imagination, and faith that the Hour of the Pearl will come again to our world.
The Hour of the Pearl, oil on canvas by Ron Clavier.