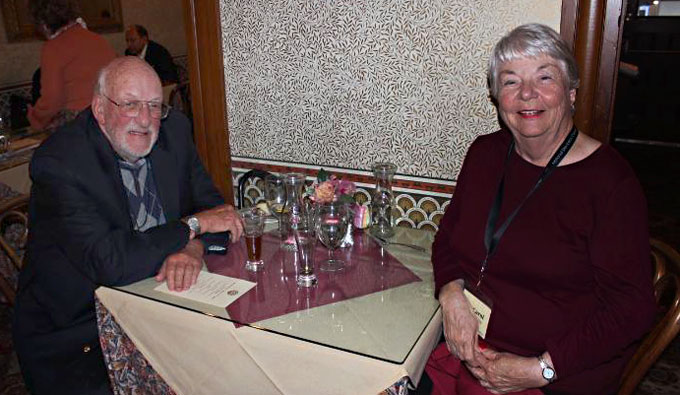 Carol Robles died at the Salinas Valley Memorial Hospital just before 7:00 AM on October 28, 2016. Her great heart failed.
Carol called herself "just an Idaho farm girl," and that's what she was.
Carol Joyce Hansen was born in Emmett, Idaho on December 24, 1937. She attended Boise State University for a year, married, and then moved to San Jose. In 1978, she moved to Salinas and worked at the Sears store on South Main and served as Human Resources manager until 1992. After leaving Sears, she decided to complete her B.A. degree, and went to Hartnell College and then to Golden Gate University, graduating in 1994 summa cum laude with a degree in human relations. She later helped set up the Golden Gate University extension in Monterey.
She spent the past two decades traveling the world. And she also devoted herself to the Salinas community, particularly John Steinbeck's legacy. She was deeply involved in the National Steinbeck Center from its inception, really "part of the heart and soul of the Center," as her friend and traveling companion, Peter Hoss, noted. "She was the world's expert on John Steinbeck's life," he continued. And that was so. Carol spent hours tracing details of the Steinbeck and Hamilton family history, and many consulted her about his life. She also trained NSC docents and volunteers and gave many, many tours of Steinbeck County-land that she loved. Carol's bus tours were unforgettable; she sat in the front and regaled people with in-depth stories about Steinbeck's life and career. Her tours of the Steinbeck House in Salinas were equally detailed and lively. Those who were fortunate enough to hear Carol talk about Steinbeck will never forget her passion.
Carol was also active in the Salinas Chamber of Commerce, Dixieland Monterey, and Mensa.
She is survived by her stepson, Robert Robles and wife Bertha, as well as six grandchildren and eight great-grandchildren.
A memorial will be held at the National Steinbeck Center, Sunday, November 13 at 1:00 pm.
Donations can be made in Carol's name to the National Steinbeck Center (1 Main Street, Salinas, 93901) or to the Valley Guild for the Steinbeck House (132 Central Ave. Salinas, California 93901).
Peter Hoss contributed to this post. Photograph of Peter Hoss and Carol Robles at the Steinbeck House by Susan Shillinglaw.