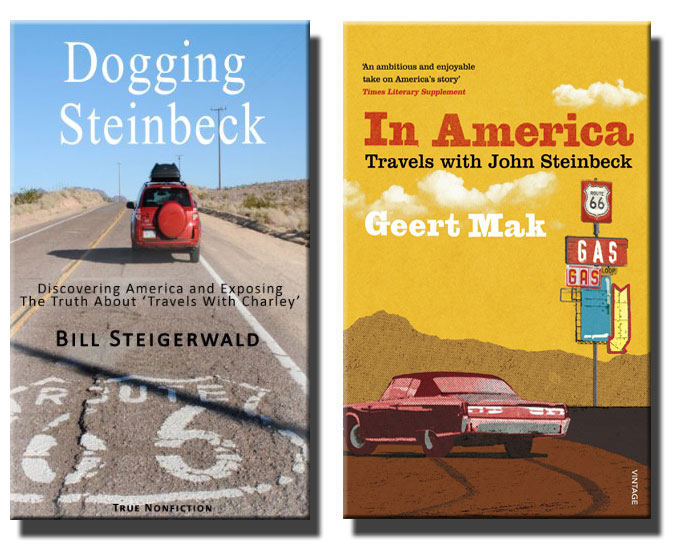 John Steinbeck delivered the speech of his life after taking the road trip described in Travels with Charley in Search of America, the last book he wrote before being awarded the 1962 Nobel Prize in Literature. Fifty-five years following Steinbeck's acceptance speech in Stockholm, a pair of journalists who retraced Steinbeck's route across America, and wrote separate books simultaneously, came together at a literary award event in Amsterdam attended by Queen Máxima of the Netherlands and broadcast on Dutch TV. Like their books, Bill Steigerwald and Geert Mak differ in background, language, and style. But they agree on issues, including Steinbeck's accuracy in Travels with Charley, and their accord led to friendship. Like Steinbeck's relationship with Bo Beskow, the Swedish artist who helped arrange Steinbeck's speech in Stockholm, it flourished despite distance, and it led to Steigerwald's speech in Amsterdam on November 27, when Mak was awarded the 2017 Prince Bernhard Cultural Prize for lifetime achievement as Queen Máxima looked on.
Writers Celebrate Meeting on John Steinbeck's Trail
Bill Steigerwald, the investigative reporter from Pittsburgh who wrote Dogging Steinbeck "to expose the truth about Travels with Charley and celebrate Flyover America and its people six years before they elected Donald Trump," is an American journalist with a rough edge and an independent streak. Geert Mak, the author of In America: Travels with John Steinbeck and the recipient of the award, is a Dutch journalist with European polish who writes popular history books that have drawn criticism from academics in Europe. When scholars in America downplayed or took offense at Steigerwald's charges in Dogging Steinbeck, Mak emailed "to express my personal admiration for the job you did [and] to tell you that you became a kind of journalistic hero in my travel-story about Steinbeck." He cited Steigerwald in the book he wrote to help readers in Europe, where John Steinbeck became a hero for writing The Moon Is Down, better understand contemporary America, where recent events have made the social criticism in Steinbeck's American novels more relevant than ever. Mak inscribed a copy of his book to Steigerwald when it was translated from Dutch into English.

Colleague Writes Postscript to Speech in Amsterdam
The speech Bill Steigerwald gave about Geert Mak was short, like John Steinbeck's address in Stockholm, and it left time to socialize, as Steinbeck did with Bo Beskow in 1962. The irony in this description of meeting Mak in America and paying tribute in Amsterdam sounds a bit like Steinbeck, who favored satire when he reported from Europe after World War II:
Geert Mak is my age, 70, and a masterful practitioner of drive-by journalism. In America sold a couple of hundred thousand copies in Holland, as most of his history books do. It was reviewed favorably by the Guardian newspaper, which liked both Mak's fine writing and his left wing Euro-politics.
Mak, who calls himself a proud "half-socialist," has visited America many times and lived for a while in Berkeley. In the fall of 2010, when he and his wife were a week into their 10,000-mile Charley road trip, in New Hampshire, he learned that I was traveling a day or two ahead of him.
Mak also soon learned I was posting a daily road blog to the Pittsburgh Post-Gazette and slowly revealing my charges that Steinbeck had fictionalized significant parts of Charley—which for half a century had been marketed, reviewed and taught as a nonfiction book.
Our relationship flourished online and two months ago I was suddenly asked to be a surprise guest at an elaborately produced and televised ceremony in Amsterdam honoring Mak for his impressive lifetime work. He is a household name in Holland and because he praised me in In America the people there were led to think I'm an important American journalist/author. As I wrote in an email to friends from Amsterdam after my speech, "I represented our great country with as little dignity as possible and I am proud to say that in my four-minute address—my world debut as a public speaker—I did not once bash America or use the T-word, though of course our dear leader was the embarrassing elephant in the room/country/continent."
Mak's prize was a crazy-looking necklace and 150,000 euros, but I was told by half a dozen people that the big hug he gave me during the event after my speech was the emotional high point of the show, which to a supposed hard boiled ex-newspaperman like me is a hilarious thought.
The American mode of mocking humor started with Mark Twain, the American drive-by journalist who invented "creative nonfiction," and the idea of Innocents Abroad, when he wrote about his first trip to Europe. Thanks to Bill Steigerwald's dogged pursuit, Travels with Charley has now been reassigned to the in-between category pioneered by Mark Twain 150 years ago. Thanks to Steigerwald's long distance friendship with Geert Mak, Steinbeck was on stage again at another award event in Europe held to honor the achievements of a popular writer with mixed feelings about America.