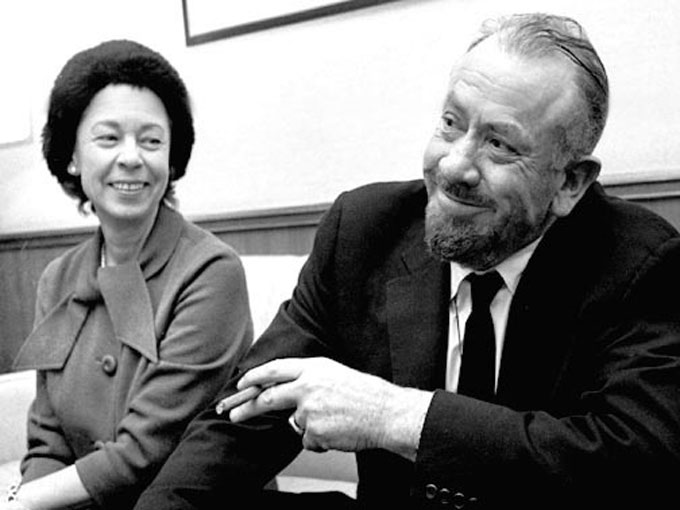 It was 1998. I had co-curated with Patricia Leach the inaugural art exhibition at the grand opening of the National Steinbeck Center in Salinas, California. A week or so after the opening I received a phone call from a woman with a Southwestern accent, or at least that's what I judged it to be.
"Mr. Hauk, this is Elaine Steinbeck, the widow of the author John Steinbeck."
"Hello, how do you do?"
"I am doing well, thank you. I was wondering if you would do me a favor, please."
"Yes, of course."
"Could you look in a Monterey County telephone book and tell me how many times you see my late husband's name associated with a business or commercial enterprise?"
I opened my phone book to the businesses section and started flipping the pages to the S's. I wondered how Mrs. Steinbeck picked me to call, then realized it must have been because she saw my name in conjunction with the exhibition at the National Steinbeck Center, This Side of Eden: Images from Steinbeck's California.
Well, I found Steinbeck's name tacked on to six or seven area enterprises. There was, I recall, a credit union, a used car dealership, and a dry cleaner, among other Steinbeck-somethings. As I read them off to Mrs. Steinbeck, she said, "Oh, my." She said this or something similar several times in a charming sort of way. I joked that I might think of adopting the Steinbeck name for my business. She laughed, sort of. The commercialization of her husband's name obviously bothered her, but she didn't seem terribly upset, just mildly irritated and genuinely curious.
We talked for several minutes. She asked about the National Steinbeck Center and wondered how her husband was remembered in Monterey County. I found her a pleasant conversationalist. Over time, as I grew more interested in her late husband's work, I regretted I didn't ask for her phone number that day so I could call now and then to ask questions about his life.
The other day, I picked up the Monterey County phone book, turned to the business section, and flipped to the S's. Some of the businesses with the Steinbeck name in 1998 had obviously closed, but new ones had sprouted up and the number using the author's name was up eight, including a kennel (Steinbeck loved dogs), two realty firms (he owned houses in Monterey and Pacific Grove), a dental center (he said he met Ed Ricketts at the dentist's), a café (think Bear Flag), a produce business (perfect fit), even an equine clinic for ponies, red and otherwise.
At her husband's funeral in New York, Elaine Steinbeck asked his friends and mourners not to forget him. It isn't what she had in mind at the time, but in a way that Steinbeck would probably appreciate, the continued commercial use of his name in Monterey County, 50 years after his death, is a sign of recognition and respect. I think she realized that and it's the reason she called me 20 years ago. I'm glad I got to speak with her. She was smart and personable, like most Texans I know, and she was a theater person with an ear for poetry. When she died in 2003, her ashes joined John's at the Salinas, California cemetery where, as she predicted (quoting Keats), she came to rest, like Ruth, "amid the alien corn" of her loved one's people.
The voice I hear this passing night was heard
In ancient days by emperor and clown:
Perhaps the selfsame song that found a path
Through the sad heart of Ruth, when, sick for home,
She stood in tears amid the alien corn . . . .
      (from "Ode to a Nightingale")