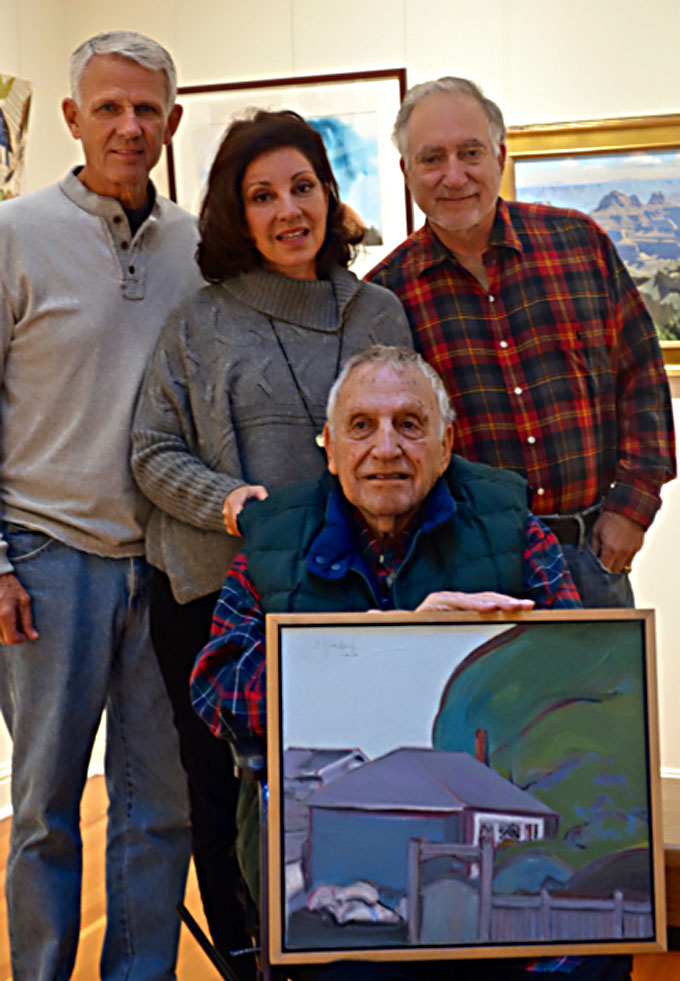 Gregory Kondos, a 93-year old Sacramento, California artist and immigrants' son, recently presented "House of Steinbeck," his painting of the legendary 11th Street Steinbeck family cottage, to the public library in Pacific Grove, the California town where John Steinbeck lived on and off in the 1920s, 30s, and 40s. The oil-on-canvas painting—based on photographs of the 11th Street cottage taken before its recent renovation—was presented to Linda Pagnella, who is retiring this week as the Pacific Grove Public Library's director of circulation.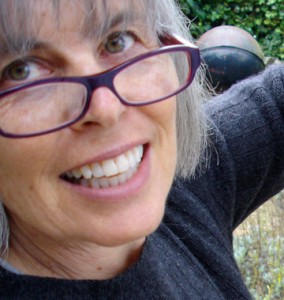 Kondos said that he made the gift in memory of the Pacific Grove artist Nancy Hauk (left), a close friend and former student. "I painted it in memory of Nancy," he explained, "as a way of honoring her." Before Nancy's death in July, the Pacific Grove Public Library named its newly completed art gallery in her honor. Steinbeck's first wife, Carol Henning, may have worked at the library in the early 1930s, when the struggling newlyweds subsisted on Depression-economy jobs, help from friends, and a monthly allowance from Steinbeck's father.
At Home in Pacific Grove in Steinbeck's Time and Today
Kondos and his wife Moni have a second home in Pacific Grove, not far from the cottage where the Steinbecks lived when Steinbeck began writing Of Mice and Men. Joining the painter and his wife in presenting the painting were (from left in lead photo) son-in-law Bobby Field, associate athletic director at UCLA; daughter Valorie Kondos Field, the UCLA Athletics Hall of Fame coach whose women's gymnastics team has won six national championships; and son Steve Kondos, an Aerojet engineer who helped build the first Mars Rover. Moni Kondos made arrangements for the gift.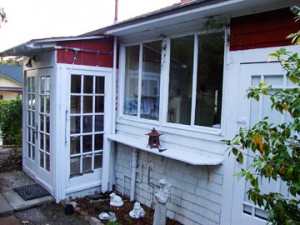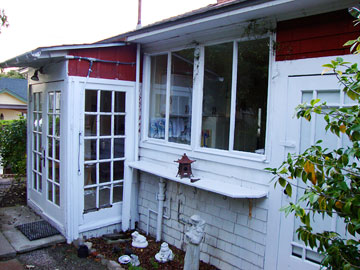 Location, history, and the enthusiasm of residents like Nancy Hauk, a former board member, have made the library a popular place for Steinbeck fans in Pacific Grove, a town with a long memory and a slow pace that appealed to John Steinbeck and Ed Ricketts. The Steinbeck cottage is located at the corner of 11th Street and Ricketts Row, the alley named by Pacific Grove for Steinbeck's friend and collaborator.
Kudos for Kondos in Sacramento, California's Capital


Further proof that prophets, authors, and artists aren't always without honor at home in California was provided several years ago by Sacramento, which renamed a city street Kondos Avenue. Sacramento City College, where Kondos taught until 1982, named its art gallery for him when he retired. A member of the National Academy of Design, Kondos has also exhibited in China, Europe, and Washington, D.C.
Photo of Bobby and Valorie Kondos Field with Steve and Gregory Kondos courtesy Steve Hauk.