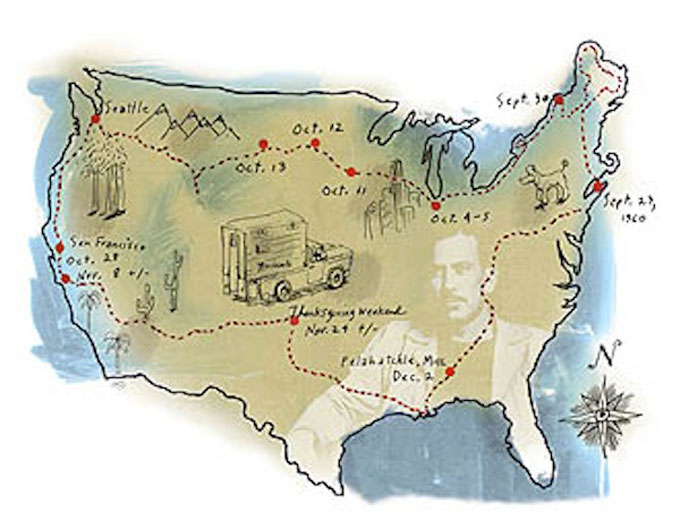 Fifty-five Novembers ago this week, as the historic 1960 election between Nixon and JFK was coming to a photo finish, the Steinbecks–John, Elaine, and their dog Charley–were laying over at the Steinbeck family cottage in Pacific Grove on California's Monterey Peninsula.
In time and distance, Steinbeck was a little more than halfway through his 11-week Travels with Charley road trip. He and Charley had left Sag Harbor, New York in his pickup/camper combo, Rocinante, on September 23, 1960, and would return to New York City around December 5-6. Their 75-day journey covered about 10,000 miles of mostly two-lane highway.
Based on clues found in letters and the Monterey Peninsula Herald, the Steinbeck family relaxed at the Pacific Grove cottage with Steinbeck's sister Beth for about two weeks. They were quickly discovered by the local press.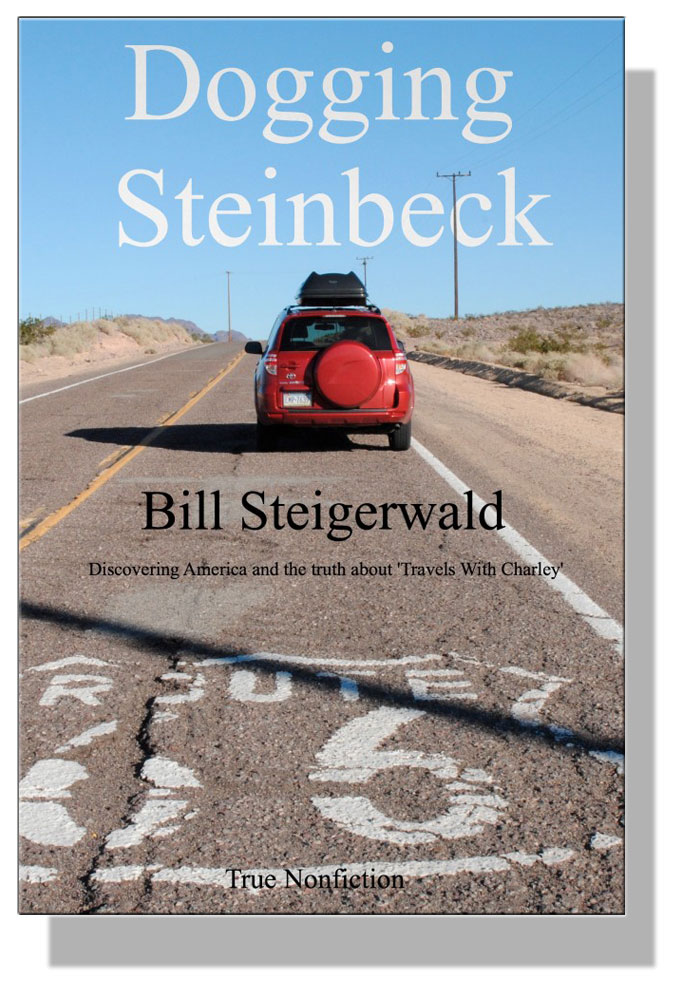 As I write in my ebook Dogging Steinbeck:
In 1960 the Traveling Steinbecks were at the cottage for only a day or two when the Monterey Peninsula Herald dispatched a writer and photographer to do a story. The resulting feature, which ran in the Nov. 4 paper, was very well written by Mike Thomas and included a photo of Steinbeck standing in the garden with a cigarette in his mouth.
 
Thomas found Steinbeck fixing a wooden front gate, which the author said he had probably built himself 30 years earlier. Describing Steinbeck as a big man with broad features, piercing blue eyes, graying hair and small goatee, Thomas said he was wearing corduroy pants and a shapeless green sweater.
 
His fingers were nicotine stained and he had a Zippo cigarette lighter on a string around his neck. Wife Elaine was there. So was "an aging poodle sitting in a car at the curbside." When Thomas asked if he would ever move back to the Monterey area, Steinbeck said he felt like a stranger on the peninsula and repeated his Thomas Wolfe mantra – "You can't go home again."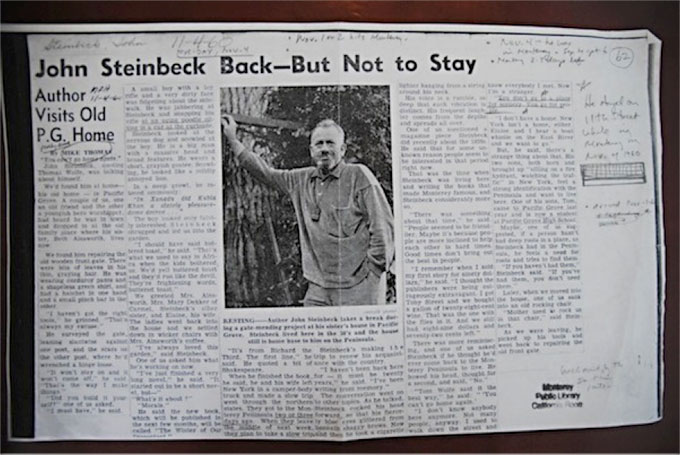 While relaxing at his old "P.G." home, Steinbeck saw the remnants of the once-thriving sardine fishing industry he described in Cannery Row, and he apparently revisited some of his old haunts on Alvarado Street, including the Keg, which was owned by his friend Johnny Garcia.
He also cast an absentee ballot for Kennedy, who lost California to Nixon by 35,000 votes in the 1960 election, a race that was too close to call until results from Illinois gave Kennedy the edge. (JFK was actually ahead in California for about a week until the absentee ballots were counted.) JFK lost to Nixon in then-heavily Republican Monterey County by a whopping 56-43 percent majority.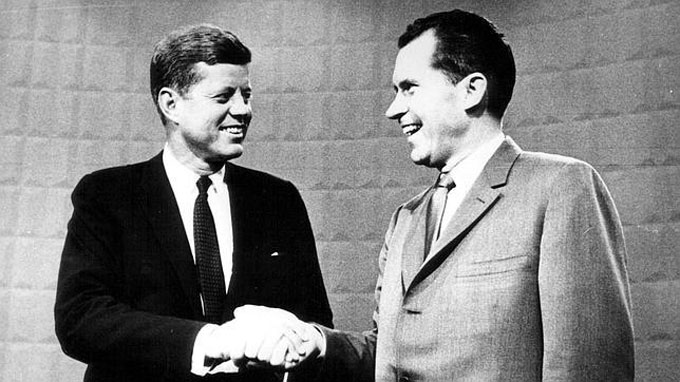 Steinbeck's ambitious search for America, which he acknowledged in Travels with Charley and in private letters was largely a failure, resumed around November 15. He drove on to Amarillo, Texas, where Elaine caught up with him for a Thanksgiving feast at a massive cattle ranch owed by the family of her ex-husband, the movie star Zachary Scott. From Texas, Steinbeck and Charley drove home alone to New York by way of New Orleans, where Steinbeck witnessed the ugly protests against the integration of the city's public schools described so powerfully in Travels with Charley.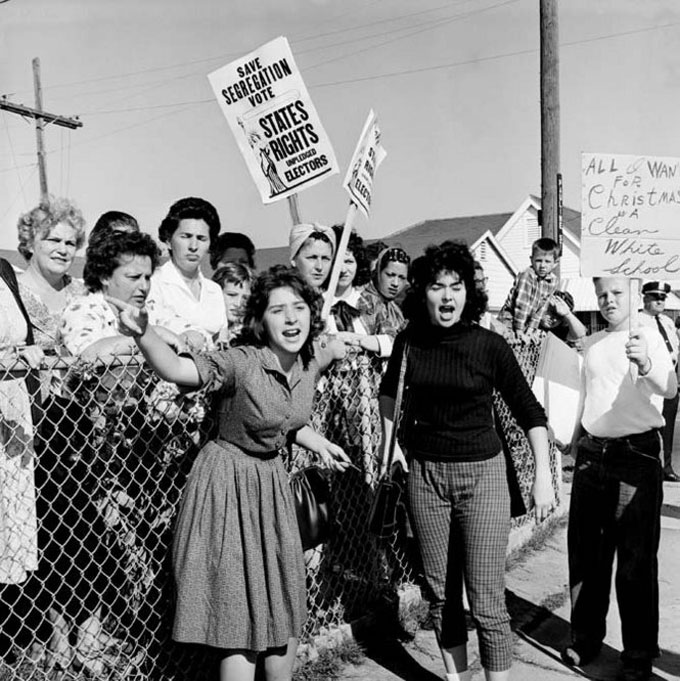 He kept no expense records and took virtually no notes. His book Travels With Charley in Search of America, the fictionalized account of his trip and the people he met on it, came out in the summer of 1962. Published by Viking Press, it was a huge commercial and critical success. In late October it touched the top of the New York Times nonfiction bestseller list for a week and stayed on the Top 10 nonfiction list for more than a year.
For Dogging Steinbeck and my website Truth About Charley. I tried to create a definitive timeline of where Steinbeck was on each day of his trip. It wasn't easy and it has some holes that probably never will be filled. It's based on the unedited first draft of Travels with Charley; letters Steinbeck wrote from the road to his wife Elaine and others; biographies, newspaper articles, and interviews; and best-guesses. It's as accurate as I could make it.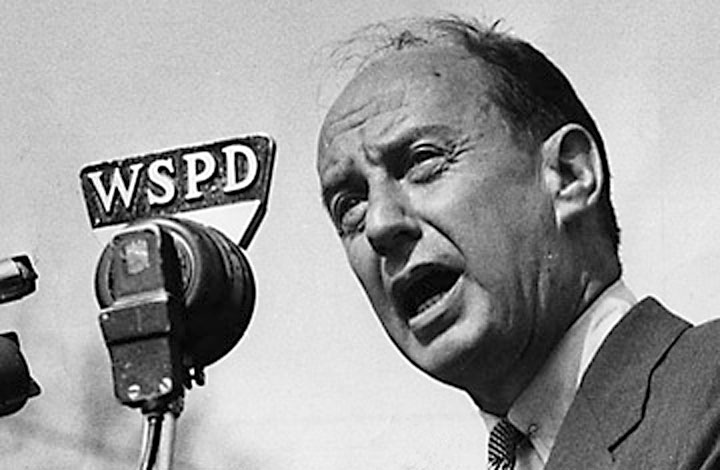 The results of the 1960 election pleased Steinbeck. A lifelong partisan Democrat, he despised Richard Nixon, a fact he repeatedly made that clear in letters to his hero Adlai Stevenson in the summer of 1960 and in the first draft of Travels with Charley, before most of his political slights were deleted by Viking's editors. In 1968, as Steinbeck's health was getting worse, he had to endure Nixon's political resurrection and watch him defeat Hubert Humphrey. But, as I say in Dogging Steinbeck, "Luckily, he died that year on Dec. 20, so he never had to witness his hated Tricky Dick being sworn in as president."
Illustration showing where John Steinbeck was at various times during Travels with Charley by Stacey Innerst, courtesy Bill Steigerwald.