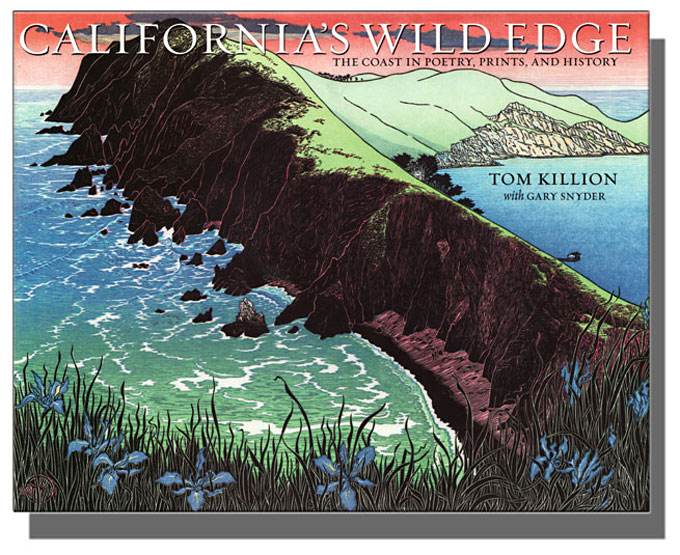 The Central California coast from Big Sur to Monterey Bay has become synonymous with John Steinbeck and Robinson Jeffers, the iconic poet of the California coast who lived in Carmel from 1913 until his death in 1962 and influenced Steinbeck's writing in the 1930s. In California's Wild Edge: The Coast in Poetry, Prints, and History, the California artist Tom Killion reinterprets the landscape of Jeffers and Steinbeck's California coast in image, poetry, and narrative uniquely suited to today's ecology-minded audience. Influenced by the East Coast artist and author Rockwell Kent, a contemporary of Jeffers and Steinbeck, and by the art of Japan, a country that Steinbeck wrote about and visited, Killion has developed over a period of four decades a distinctive style of wood and linocut printmaking that perfectly serves the subject of his most recent book. Like Kent, he is a visionary artist with an eye for arresting image, lyrical text, and their marriage in beautiful books with popular appeal. In California's Wild Edge, the Pulitzer Prize-winning California poet Gary Snyder—Killion's mentor, friend, and collaborator—continues to be an essential source of inspiration, ideas, and information about the mystical topography and extraordinary ecology of the state celebrated in Killion's art.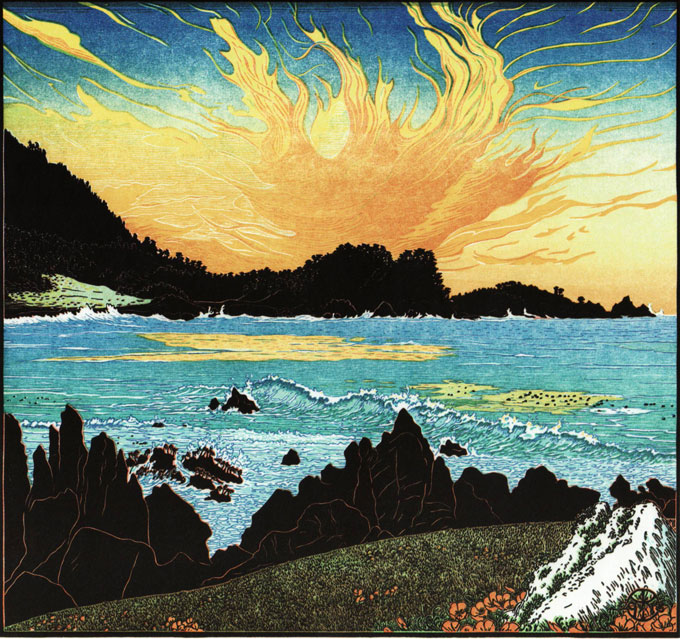 The Perspective from Point Reyes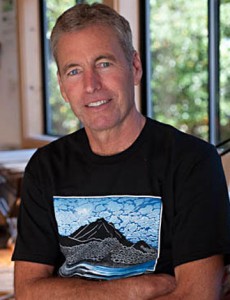 Rockwell Kent's work was inspired by the rugged terrain of Monhegan Island, off the coast of Maine, where Kent lived from 1905 to 1910. Tom Killion has a similar relationship to Mount Tamalpais in California's Marin County, where he grew up in the 1950s and 60s, and to Point Reyes, the isolated preserve on the Marin coast where he now lives and works. He became interested in book printing and poetry as a history major at the University of California, Santa Cruz in the 1970s. After graduation he traveled in Europe and Africa, returning to Santa Cruz to establish Quail Press before earning a PhD in African history at Stanford, the university Steinbeck attended but never finished. His first book, 28 Views of Mount Tamalpais, was published in 1975. Fortress Marin, his second, appeared in 1977, and The Coast of California: Point Reyes to Point Sur, his third, in 1979. During the 1980s he conducted historical research in Africa, administered a medical relief program in Sudan, traveled with nationalist rebels in Eritrea, and completed his fourth book, Walls: A Journey Across Three Continents (1990), which combines travel narrative with woodcut illustrations, as Rockwell Kent did in his books about wild, unpopulated places. In retrospect, Killion's purpose as an emerging artist was clear early in his career: celebrating the human and natural ecology of people and places outside the mainstream of modern society, like Kent, an equally intrepid explorer.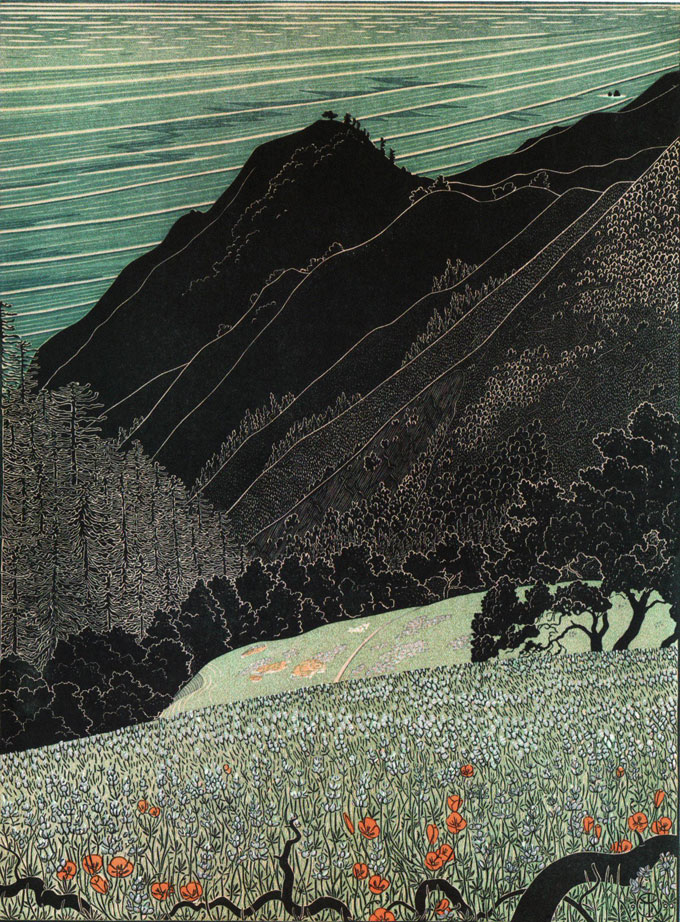 Gary Snyder, Poet Laureate of Deep Ecology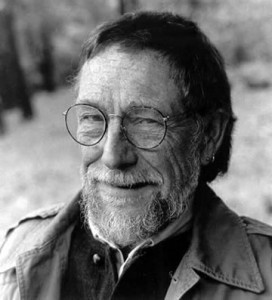 Killion taught history at Bowdoin College in Maine from 1990 to 1994, traveled to Eritrea as a Fulbright scholar in 1994, and returned to California in 1995 to teach at San Francisco State University. His collaboration with the San Francisco Renaissance writer and environmental activist Gary Snyder, "the poet laureate of deep ecology," resulted in three volumes of art and text devoted to California's legendary landscape, all published by San Francisco's Heyday Books: The High Sierra of California (2002), Tamalpais Walking: Poetry, History, and Print (2009), and California's Wild Edge (2015).  Like John Steinbeck, Gary Snyder is a California native of Scots-Irish, German, and English ancestry with a worldwide reputation as an author and advocate on global issues. His progressive politics and activism, like Steinbeck's, angered officials in Washington, D.C., and caused similar problems in his life. Like Steinbeck, he used his experience as a manual laborer in his early writing. Later he studied East Asian art and literature, lived and traveled in Japan, and became associated with the Beat movement centered in mid-century San Francisco. He received the 1975 Pulitzer Prize in poetry following the publication of Turtle Island, a book of poems and essays exploring humanity-in-nature from a holistic perspective similar to Steinbeck's in Sea of Cortez. The spiritual dimension of environmentalism, East Asia, and the California coast and landscape informs his seven-decade career as a writer, one that bridges the generations of John Steinbeck and Tom Killion.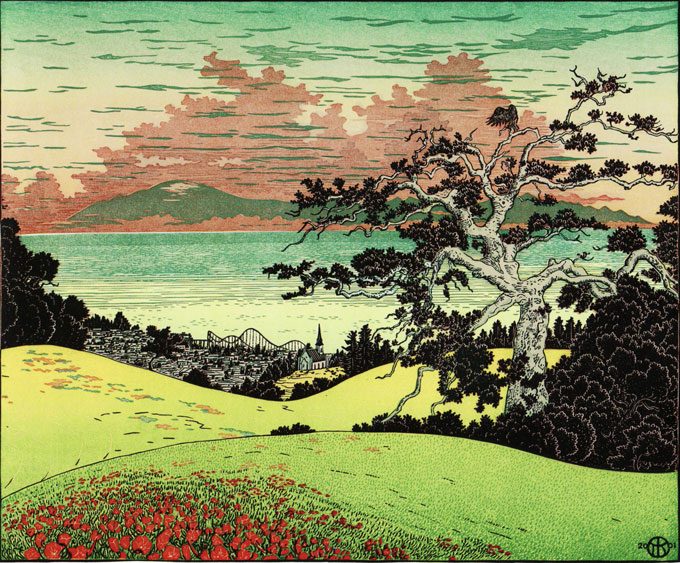 The California Coast from Big Sur to Cape Mendocino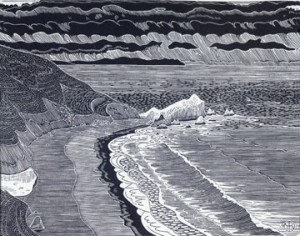 The art of California's Wild Edge, Killion and Snyder's third collaboration, is breathtaking. Its text—a fusion of natural and human history, poems and journal entries by various writers, and personal memoir—constitutes a mini-course in California culture that delights and surprises at every turn. Before "Anglo-Californian" coastal poetry there was "the poetry of naming," colonial Spain's greatest contribution to California, and Richard Henry Dana's Two Years Before the Mast, "the finest account of the coast ever written from the perspective of the sea." The story of Big Sur, the most dramatic episode in the history of the California coast, is told through the life and writing of the colorful character Jaime de Angulo, and literary figures—including Robinson Jeffers, Jack London, and the poet George Sterling—attracted to Carmel, north of Big Sur, after the 1906 earthquake. Largely forgotten today, Sterling was born in Sag Harbor, New York—where Steinbeck later lived—and committed suicide by swallowing the cyanide pill he kept for the purpose, like Cathy in Steinbeck's East of Eden, during a depression caused by his decline in fame and fortune in San Francisco. Not surprisingly, San Francisco serves as source, context, and symbol for much of Killion's history of California coastal poetry, from the native peoples of the coast to Bret Harte and Robert Duncan, the "mystical poet and pioneer of gay civil rights" who, with Snyder and other San Francisco literary lights, created the city's modern literary renaissance.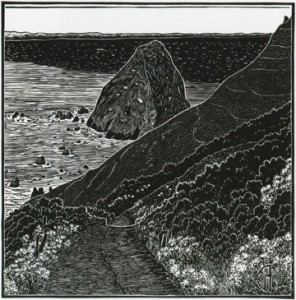 But personal memories, not literary history, comprise the heart of Killion's narrative—of a grandmother who left lonely Eureka, California for San Francisco in 1906 and survived the earthquake; of hiking Mount Tamalpais as a boy and biking from his parents' home in Mill Valley as far north as Eureka and as far south as Santa Cruz; of helping clean up the 1971 Golden Gate oil spill that sparked Marin's successful anti-development movement; of attending college in Santa Cruz, the embodiment of California coast culture, north and south; of returning to Marin County to live and work near unspoiled Point Reyes, "which projects father into the sea from the main axis of the California coast than any other point." The "redwood coast" from Big Sur north to Humboldt Bay dominates Killion's story because, he says, it's less populated than Southern California and more dramatic. It's the same California coast that engaged John Steinbeck in his much of his writing. The original setting of his second novel, To a God Unknown, was Mendocino County, and the 1955 movie adaptation of East of Eden was filmed in Mendocino—a stand-in, as Killion notes, for Monterey. Steinbeck liked to say he could take or leave the mountains, but had to live near the sea—the setting for his first novel, Cup of Gold, and for The Winter of Our Discontent, his last. Though neither novel is about California, each one has the unforgettable feel of the California coast between Santa Cruz and Big Sur where Steinbeck spent his happiest years—a rich source of history, poetry, and art from pre-Spanish times to the present. California's Wild Edge captures the subject splendidly.
Images from California's Wild Edge ©Tom Killion 2015.
.